"Our paper machinery business growth is continuously increasing because of low price, small profits, transparency and honesty"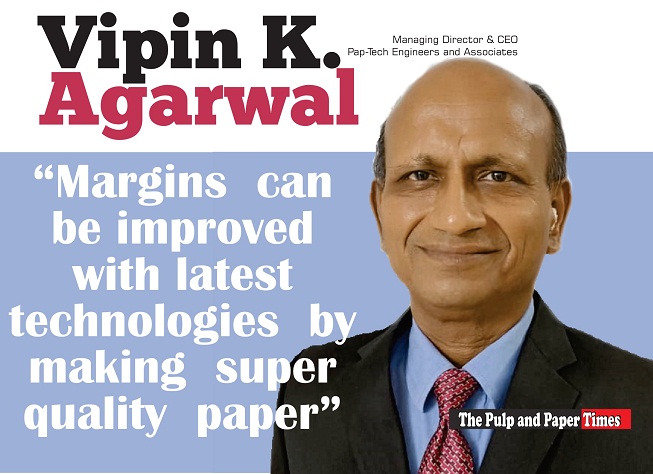 "Our paper machinery business growth is continuously increasing because of low price, small profits, transparency and honesty"
Recently, The Pulp and Paper Times takes an exclusive interview of Mr V K Agarwal founder of Pap-Tech Engineers & Associates and discussed the various technological development in paper machine market. Here is full interview:
Q: Please give us a small introduction of Pap-Tech Engineers & Associates
Pap-Tech Engineers and Associates is a company started in 1993 with small budget high quality paper testing equipments under the guidance of Mr. V K Agarwal paper technologist. We have a team of engineers with 35 years experience in mechanical electrical electronics and it backgrounds . Mr. V K Agarwal did B.tech from IIT Roorkee in 1987 batch we have a team of designers and engineers for fast after sales service.
also we have done big market camp for consistency control , basis weight valve, head box control and auto guide.
company started paper machine manufacturing with ex mechano and ex servall engineers in 1997 and we are also importing paper machines and spare parts new and second hand from different countries to provide better quality control better production and better after sales services we also provide etp equipments. now me (mr. v k agarwal) and my son (mr. ravi agarwal) leading our company along our skilled and trained staff.
Q: Please shed some light on the Paper Machinery Market post-COVID, What is the situation?
Yes covid was really a big problem in first and second quarter of 2020 but after second quarter market revive in 2020-2021 our business was 50 percent more because of our quality and service. We have supplied lot of materials to paper mills like drying cylinders, combination rolls, suction rolls, dandy rolls, pressurised head box, hydraulic head box, and double knife cutters.
In 2021-22 our business was around double than what in 2019-2020. Basically India has a big profit market for paper mills and paper machinery business if you work hard with honesty. We have supplied complete new paper machine for tissue and poster paper for 40 tpd in 3500 mm trim width. We have also done complete renovation job for second hand kraft paper mill by adding some new equipments and machinery. Now paper mill is making 450 tpd in 4500 mm width and making big profits.
Q: What obstacles do you see in paper mill operations which stop a paper mill from growing with better margins?
Paper mills are growing faster if they pay attention on quality. Market is not a problem . No doubt profit margins have reduced due to healthy competition in every field. Your efficiency of production should be 110 percent with quality. Major obstacle is availability of quality waste paper, runnability of machines because of poor selection of machines or workman ship. Margins can be improved with latest technologies by making super quality paper. Every mill should invest 50 percent of net profits for upgradation of quality either on machine parts or raw material quality.
As a paper technologist, i advice paper mills to adopt latest technologies like top former film press suction press shoe press blade coaters hydraulic head box high speed rewinders and syncrofly cutters.
Q: Any new technology, on which you are working and are going to deliver to the Paper Industry in the coming time? Any New product launch by you, please share
Yes we are working on suction rolls, film press, shoe press, combi blade coaters, multizone nipco soft nip, and hard nip calendars pressurised air cushion head box, hydraulic head box and syncrofly cutters. We have already launched film press in four paper mills in 2020, 2021, 2022 we will supply shoe press at economic prices to paper mills for more production and high quality.

Q: Do you think that investment in the best technology can improve the productivity and efficiency of a paper mill?
Yes it is sure if paper mills renovate them with investment in best technology like top former pressure, former four wire, suction rolls, blade coaters, hard nip and soft calenders, film press , shoe press, and better converting section then they can sell paper at higher prices for export quality and get better margins. We also get better margins in export business but quality should be best for export business.
Q: What are your products offering to Paper Mills?
We have a wide range of products under one roof name Pap-tech engineers and associates. We have complete range of paper testing equipments basis weight valve consistency control auto guide felt stretcher wire stretcher. We have complete range of paper machines from head box to pope reel and high speed rewinder inclusive of pressurised air cushion head box hydraulic head box combination roll suction roll top former dandy roll pressure former jumbo press size press film press shoe press drying cylinders yankee cylinders gloss calendars blade coaters multi zone nipco soft nip and hard nip calenders kuster type hard nip and soft nip calendars simple solid and steam calendars pope reel and rewinders. We also provide converting units like high speed double knife cutters and high speed rewinders.
We also provide pulp mill and stock preparation equipments like brown stock washer high speed washers disc thickener poly disc filter various models of high efficiency centricleaners drum pulper d pulper fractionators pressure screens and high efficiency baskets slotted and holes as per your sizes and drawings. We also provide used paper machines, used pulp mill, used pressure screens, and other equipments a to z from 50 tpd to 800 tpd. We also provide consultancy services to paper mills for upgradation for quality and production.
Q: How do you execute the training and support post-sale of your delivery to the paper mill?
We have a team of dedicated engineers from mechanical and electronic sides with paper mill experience so service is not a problem that s why because of service and quality our business in 2022-2023 will be four times than in 2019-2020 our new projects in hand are complete paper machine 100 tpd in 3400 mm finish width for writing and printing papers and another kraft paper packaging paper for 150 tpd in 3200 mm width our most of the customers are satisfied from us because of our after sales service.
Q: The trading of Paper Machines components and test equipment has increased nowadays. How do you evaluate the trading market of paper machines and its growth?
Yes our business growth is continuously increasing because of low price small profits transperancy and honesty in business and business is increasing every year.
Also if we talk about in general market then yes the business is in growth for everyone who is working with honesty and providing good paper machines and equipments to paper mills and allied industries. Its all about building trust with your quality and services.
Q. Are you looking for any kind of business joint venture related to any technology supply which will be beneficial for the paper industry?
Business joint ventures are always welcome. Joint ventures of business are always beneficial for paper industry all European and Chinese manufacturers are advised to contact us any time on whatsapp or email for joint ventures we have our residence and offices in Jaipur and Delhi and factory in Jaipur only.
We can collaborate with you if you're providing good quality machinery along technology for improving Indian paper mills.
Q. Digital inclusion makes an electronic instrument more advanced. How do you see the transformation journey of the process instruments and lab instruments in the last two decades?
As the paper industry is heading toward Industry 4.0 how the instruments made by Indian Manufacturers are compatible with meeting the requirement of Industry 4.0?
Yes you are right every year we are manufacturing new models nowadays we are manufacturing instruments with plc printer micro controlled based and nowadays we are in making of touchpad instruments with laptop as well. We can design any kind of instrument or equipment based on European technology and can provide after sales services.
Without improved digital technology in any field there is no scope or very less scope of business so yes everyone working on improving their technology and so we are as well. We works on making user friendly machines so anyone can use it easily like a mobile.

Q. Do you deal in Used Paper Machinery supply? If yes then how do you analyze and strategize the selling of the used paper machinery in the context of the Indian Paper Industry?
Yes sir used paper machine is a big market in India we supply used paper machines in India along with new machines from 50 tpd to 800 tpd we also do renovation jobs rectification jobs and modification jobs by adding new equipments we basically believed in high-quality low price and more worth of your investment.
Moreover if such enquiries come to us that customer needs used paper machinery so we tell them to see the quality by themselves along us and if they like then only finalize.
We provide consultation services at your door steps also to improve your production quality and finishing.

Web Title: Our paper machinery business growth is continuously increasing because of low price small profits transparency and honesty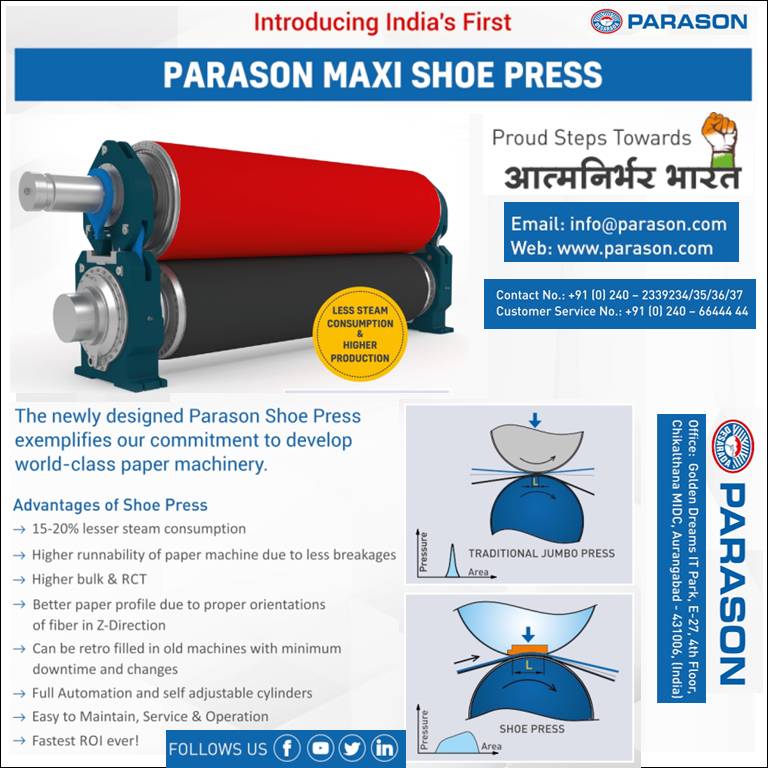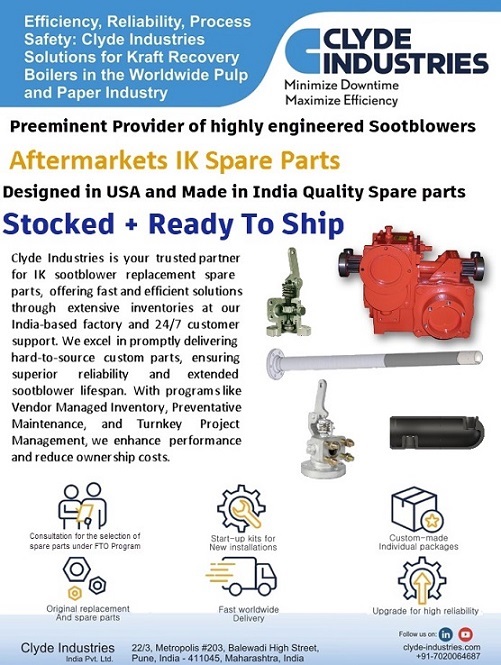 More News From interviews
Next Stories