'Market demand for tissue converted products is increased by the public's growing awareness'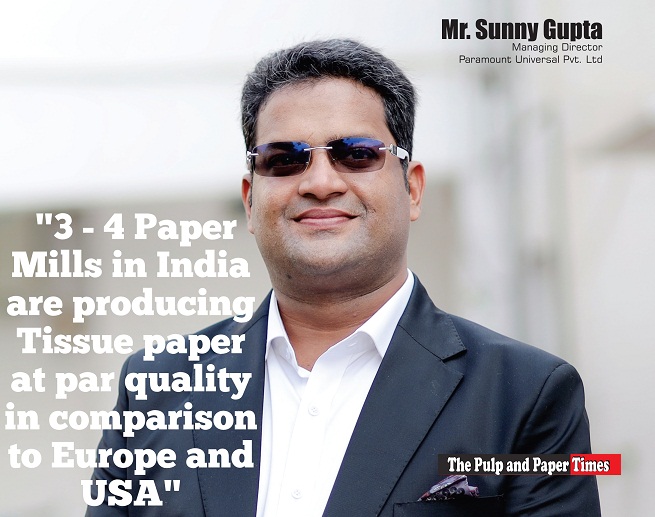 'Market demand for tissue converted products is increased by the public's growing awareness'
-3-4 Paper Mills in India are producing Tissue paper at par quality in comparison to Europe and USA
-Paramount offers 16 categories with our 4 brands - Napkins, Kitchen towels, Wet Wipes, Toilet Rolls, Garbage bags, Hand Towel (M-Fold, C-Fold & HRT) Foil Rolls (ISI approved), Foil Containers, PVC Cling, Aluminum Foil Cut Sheet, Paper Container, Food Wrapping Paper, Paper Foil, Facial Tissue, Tissue Dispenser, Pocket Tissue
Recently The Pulp and Paper Times got the opportunity to interact with Mr Sunny Gupta, Managing Director- Paramount Universal Pvt. Ltd. and discuss various issues like tissue converted products market scenario, tissue awareness, growth of hygiene industry and other industry-related matters. Here is his full interview:
October 2022 | The Pulp and Paper Times:
Q: Please give us a small introduction of Paramount Group.
Paramount Group of Companies is a family-owned business now managed by third generation entrepreneurs carrying forward the legacy of strong ethical values and beliefs. Years of hard work and expertise have made Paramount a renowned brand in the Aluminum, Polymer & Paper Industry with manufacturing plants located in Sonipat, Haryana.
Q: The tissue Segment is one the fastest growing segment in the country. What is the reason behind the growth especially after COVID?
After covid, personal hygiene is the top most priority to stop the spread of the virus which is essential for everyone's safety. During covid People started to stockpile various items such as food, drinks, and tissue & hygiene products. Tissue paper, particularly, was the one hygienic item that sold the most and still going on. Tissue papers are best for maintaining personal hygiene because of their disposable nature. Hygiene is the main factor behind the growth.
Q: What is the Market size of Tissue converted products in India, and in the next five years what will be the growth rate of these converted products you predict?
The global tissue paper market size was valued at USD 35.57 billion in 2022 and the Tissue Paper market is likely to grow at a healthy CAGR of 6.2% over the next five years. Growing global consumption of tissue paper coupled with a growing population of the world is the key factor generating higher growth opportunities in the market over the next five years. Advancements in tissue manufacturing technology are projected to boost the market over the same period. The growing awareness about sanitation and personal care boosts the market demand.
Q: What are your offerings to consumers in the Hygiene products, packaging, and Tissue category?
We are offering 16 categories with our 4 brands - Napkins, Kitchen towels, Wet Wipes, Toilet Rolls, Garbage bags, Hand Towel (M-Fold, C-Fold & HRT) Foil Rolls (ISI approved), Foil Containers, PVC Cling, Aluminum Foil Cut Sheet, Paper Container, Food Wrapping Paper, Paper Foil, Facial Tissue, Tissue Dispenser, Pocket Tissue.
Q: Please share your expansion plan in the future. Are you looking to expand your base in other products also please explain?
We're a continuously growing company & currently we have commissioned a new factory for garbage bags where we will manufacture all sizes for retail as well as institutions. In the future, we are looking to expand our base for the HORECA market in other products like Spray cleaners, Floor Cleaner, Dishwash, Liquid Handwash, Shampoo, Moisturizer, Shower Gel, Sanitizer Spray, and Handmade Soap.
Q: How do you analyze the tissue paper made from wood or Agro pulp vs Waste Paper? Do you think Indian Paper Mills are producing at par tissue quality in comparison to Europe or USA?
The Tissue Paper market is divided into two segments Recycled paper and Virgin paper. The quality of Tissue Paper is analyzed by its softness & water absorption capacity. As India being a price-sensitive market, and the major share belongs to recycled paper. However, 3-4 companies in India are producing Tissue paper at par quality in comparison to Europe and USA and also exporting to various countries.
Q: Post COVID, a spike in raw material prices pushed the price of finished paper such as Kraft, Duplex, and Writing Printing Paper. is the Tissue paper segment feeling the price pressure? if Yes, how do you manage this escalation?
Yes, the Tissue paper segment is also feeling price pressure. Since the price escalation is done by the paper mills. The market has no other option collectively, other than to absorb this price increase. Ultimately, the end consumer has to bear the cost of escalation.
Q: Do you export your products? Please shed some light on the export market of converted tissue products. How are Indian products made based out there?
Currently, we are not exporting directly but through our vendors. Also, converted tissue products have low bulk density and occupy more space. So the freight cost makes it less favorable for export. But still, it is exported in mixed orders with grocery items like rice, wheat & FMCG products.
Q: Any other message you want to convey to paper mills, Traders, Converters and retailers?
As in every industry, there are ups and downs, currently, the paper industry is at its peak. Looking at India's growth rate to be on the healthier side it will gradually stabilize. However, it will be challenging for the new entrants. They need the latest technology, infrastructure, sales team, capital backup, and product innovation for survival and to face the competition..

Web Title: Market demand for tissue converted products is increased by the public's growing awareness'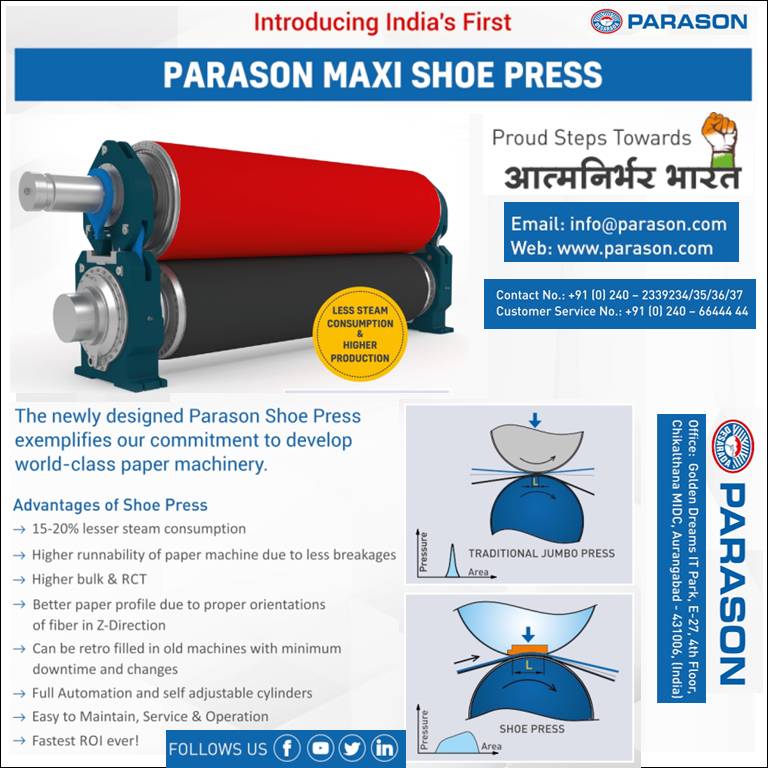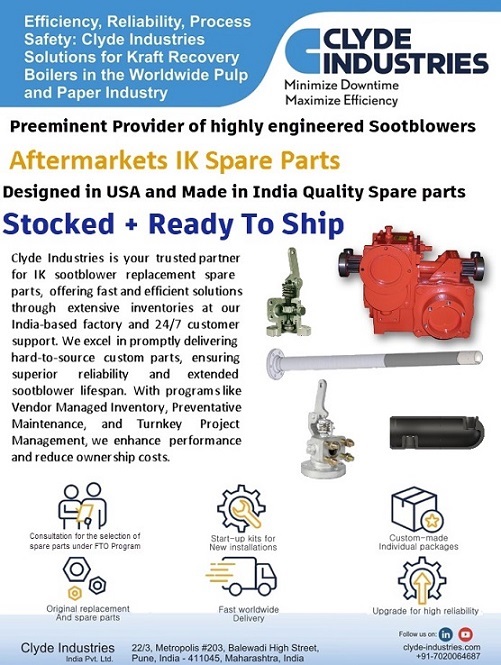 More News From interviews
Next Stories