"Conversion of existing WPP to Packaging paper line is not feasible particularly considering the financial loss because of down time" : C2C Consultancy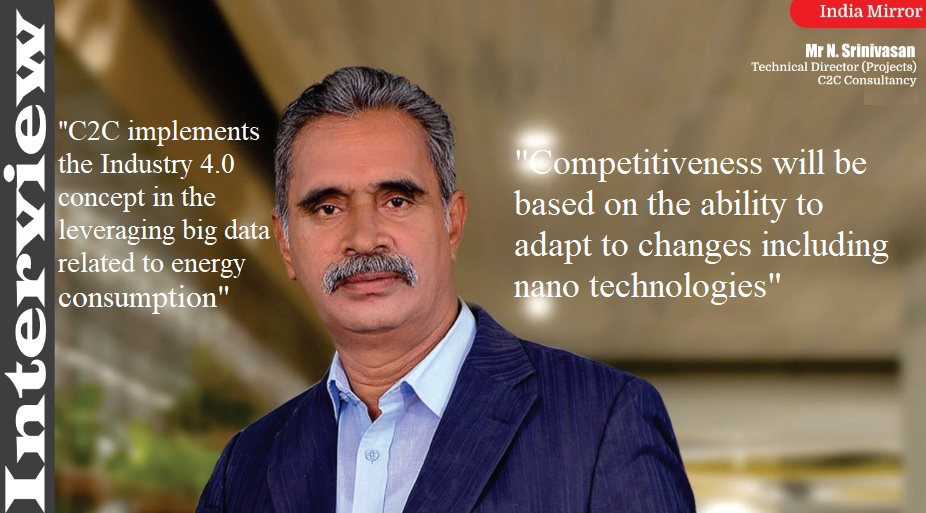 "Conversion of existing WPP to Packaging paper line is not feasible particularly considering the financial loss because of down time": C2C Consultancy
- Advanced technologies are available to run the paper machines on both fibre
- Competitiveness will be based on the ability to adapt to changes including nano technologies
- There is no specific risk for higher capacity mill except need of professional raw material collection
- Sustainability in the Paper Industry has become a major focus area and requires technology up gradation, Energy optimisation, Growth in investments and ensuring supply of raw materials.
Recently The Pulp and Paper Times spoke to Mr N. Srinivasan, Technical Director (Projects), C2C Consultancy, a Indian leader in providing consultancy, engineering, design, Project Management, Erection and Commissioning, and advisory services for pulp and paper industries about the various existing and future oriented aspects of paper making technologies, Industry 4.0, Raw material crisis, demand of paper, and other issues with regards to Indian and global paper industry. Here is his full Interview:
The Pulp and Paper Times| April 2023 :
Q: Please give us a small introduction of C2C Consultancy?
C2C Consultancy is one of the supreme consultancy service providers for pulp and paper industries. Located at Coimbatore, India, we provide Design,Engineering, Project Management, Erection and Commissioning, Energy auditing& rebuilding services for all Pulp & Paper Industries within India and Overseas, since its foundation in 2008.
C2C Consultancy has invested in 3D Modelling, Digital twins by developing precise Engineering solution as well as to improve customer satisfaction & requirement for increasing operational efficiency and to improve productivity by investing the latest technology software.
C2C Consultancy deploys more than 30 Engineers in 5 countries across Asia, Middle East and African countries to provide complete Engineering, design & implementation of the projects for our clients.
Q: what is C2C's Pulp and Paper Industry analysis post-COVID pandemic? What new trends in the Product Mix of Paper Mills arising out?
C2C analysis the post-COVID 19 world, as the economic activity opens up in the post-pandemic era, the growth momentum is likely to get further acceleration in digital and office paper segment starts growing at 4-5% in the short to medium run and thereafter will catch up growth levels of pre COVID-19 times. Internationally the demand for Kraft packaging paper is expected to grow at the rate of 11 to 15% during 2021 -2027 as per International Market Analysis Research and Consulting Group for packaging sector.
New innovations and trends are constantly emerging in the paper industry. The novel coronavirus has brought a focus on cleanliness creating new opportunities for tissue and toilet papers to meet demand. According to a recent report by rating agency CRISIL Global analytics company, a strong revival in consumer spending amid the waning impact of the COVID-19 pandemic will help the paper packaging industry bounce back with a revenue growth of 15 percent this fiscal.
C2C trusts that the increased demand will be on new products of Light weight Packaging, Recyclable products, Hygiene products packaging, Thermal Packaging, Packaging for Food, E-commerce industry for delivering goods etc., are new trending in the market.
Q: Indian Paper Industry has faced the heat of non-availability of recovered paper in last two years, does C2C think that paper manufacturers should think about alternative fibers such as Agro Residue? Can technology help a paper mill to run Paper machines on both fiber (Recovered and Agro)?
As of now in India, there are only 25 Agro based paper mills is running effectively when compared to 150 mills using agro residues like bagasse, wheat and rice straw etc.,produce 2.2 million tonnes which is 22% of the total production at 2013. The agro based fiber usage has decreased considerably and the total production of Agro based paper has come down alarmingly from 2.2M tons/Annum of paper production during a decade before and now to 1.6 M tons/Annum due to suffering of raw material crisis mainly because of Heavy transportation cost, utilisation of raw material for other purpose like firing in the boiler and power generation, the intention of farmers for shifting to other more profitable/value added crops, pollution related problems etc.,
Segment-wise composition trend in usage of raw material for the last 4 decades as follows for ready reference which clearly indicates that Agro based paper units gone down drastically:
| | | | | |
| --- | --- | --- | --- | --- |
| Segment Unit | 1990 | 2000 | 2010 | 2023 |
| Wood based | 39.18 % | 29% | 31% | 13 % |
| Agro based | 32.36 % | 36% | 22% | 7 % |
| Recycled fiber | 28.44 % | 35% | 47% | 80 % |
C2C suggests to Paper manufactures to approach Central and State Government's support to improve infrastructure for low cost transportation, encouraging the local Farmers for higher generation of Agricultural residues, introduction of new technology for better yield so that the utilization of agricultural residues like bagasse, wheat straw, rice straw, jute, grass etc., will compensate the shortage of RCF Fibre up to 15-20%.
Advanced technologies are available to run the paper machines on both fibre and in India most of the Paper mills have successfully producing and run their Paper machines with both fibre (Recovered and Agro) for their required quality required quality.
Q: Packaging paper dominates the Writing and Printing paper (WPP) domain worldwide. Paper mills tend to convert their capacity in packaging paper i.e. Duplex and Kraft. How does C2C take this trend, and is it complicated for the paper mill of WPP to shift on Packaging paper? How does C2C help its client in this?
The world is changing fast; the consumption of newsprint and printing/writing papers is decreasing. The consumption of containerboards or cartonboards are rapidly increasing due to the e-commerce, pharmaceuticals, textiles, organised retail, and other segments. An old paper machine can be updated with a grade conversion rebuild to produce more profitable products like containerboards, cartonboards or special papers but practically it will be equivalent to new project line cost i.e the CAPEX will be more or less equivalent to new project.
Recently C2C Consultancy audited 2 Paper mills in India, 1 Paper mill in Bangladesh and 1 Paper mill in Egypt to convert/shifting their existing WPP paper mill. When we inspected existing WPP pulp mill, Stock preparation & Approach flow, Paper Machine, Electricals, Civil buildings design, we understood the required investment for modification is almost equivalent to new Packaging paper line investment and thus conversion of existing WPP to Packaging paper line is not feasible particularly considering the financial loss because of down time for shifting and other Admin issues. Hence C2C suggested those 4 paper mills to go for new Packaging paper line with latest Art of Technology.
Q: As an engineering and consulting company, what are the grey or focussed areas C2C sees in the paper industry process that needs to be addressed at the preliminary level?
C2C suggests sustainability in the Paper Industry has become a major focus area and requires technology up gradation, Energy optimisation, Growth in investments and ensuring supply of raw materials will be the focus area. Competitiveness will be based on the ability to adapt to changes including nano technologies
Q: The industrial world is facing rapidly changing challenges. Our resources are finite, and we all need to do more with less. Digitalization and automation are the game changers to meet these challenges on the way to Industry 4.0. It is essential to collect, understand and use the massive amount of data created in the Industrial Internet of Things (IIoT). How does C2C support the Industry 4.0 concept in the paper process?
Industry 4.0 and the digitalisation of manufacturing will play a key role in helping develop solutions to these challenges. In the future, the paper industry will be characterised by self-organised intelligent 'eco-systems'. Instead of isolated processes and functions in individual mills, the players along the entire value chain will build interconnected clusters, continuously sending and receiving information to and from each other. The main enabler here is digitalisation and information technology, which comprises big data in a 'mega'-cloud. These big data clouds are connected to all value chain participants, capable of gathering and transferring enormous amounts of information.
A business activity that starts as an equipment solution for remote services but has the potential to evolve into a holistic remote monitoring system, controlling and supporting machines and the production network while improving productivity, reducing downtimes and reducing maintenance costs through predictive analytics.
C2C implements the Industry 4.0 concept in the leveraging big data related to energy consumption evokes the image of company-wide management of energy supply, demand, and costs. Combined with pricing information, real-time consumption information will allow optimisation of production, re-allocation of capacity and adjustments to procurement and hedging strategies.
Q: 'Energy Conservation' is an important aspect for a Paper Mill. How does C2C help in achieving a specific goal to reduce Energy usage while drawing the preliminary erection and commissioning plan?
C2C always kept in mind while designing, the performance and continuous productivity are important for the pulp and paper industry. Productive mills are focused on the reduction of energy consumption, conservation of environmental resources and replacing old, poor performing legacy equipment with more efficient upgrades. Calculating specific energy consumption in pulp and paper production, C2C always will take into account several factors, including plant size, product mix, processes used, feedstock quality, plant capacity utilisation, fresh water consumption and climate conditions.
C2C identified a popular area for energy efficiency improvement is the boilers, which represent the largest use of fuels in the facility. Similarly, the drying process of paper production is very energy-intensive, so this is also a good area of focus.
C2C find further opportunities to improve energy efficiency include: heat recovery, improved efficiency of steam use, cogeneration, increased use of self- generated biomass fuel, increased recycling of recovered paper and energy efficient motors. Another equipment upgrade which can increase energy efficiency is investing in a VFD. VFD adjust the speed of an electric motor, based on the application requirements.
Q: In India, new capacities are being set up between 500 to 1000 TPD; what is the reason behind this trend? One should understand that resource optimization and production efficiency are the keys behind mega capacities. Don't you think that big capacity involves high risk also?
C2C analysed Technically as well as Financially lot of Paper mills form small capacity(50 TPD) to bigger capacity (800 TPD) which lead to the conclusion that small mills have higher costs of production, long return of investment because of higher over heads, unable to meet the quality parameters of current client requirement relative to the large mills because they cannot avail of the pronounced financial prudence of scale that characterise the paper industry.
After globalization, the global pulp and paper market growth increased substantially that too particularly in Asian, Middle East and African countries which fascinate mass production of paper in terms of minimising the cost of production, quick return of investment, achieving the quality parameters because of advance technology.
There is no specific risk for higher capacity mill except need of professional raw material collection, qualified/Skilled Engineers, maintaining critical equipment inventory, need of professional marketing network and system based admin & operation.
Althoughthe paper industry is highly capital-intensive,C2C strongly suggest to the promoters to go for bigger capacity for sustainability and to meet the marketing requirement of the client in India and Overseas.
Q: What is C2C offering for paper mills in terms of area of expertise?
C2C Consultancy excels as one stop solution right from Concept to Commissioning inDetailed Project Report, Basic Engineering, Detail Engineering, designing, Project Management,Erecting & commissioning mills with guaranteed quality and quantity, baby sitting that produce & benefit most international and domestic consumers.C2C offers the SWOT analysis to figure out the mill's Strengths, Weaknesses, Opportunities, and Threats before any new development in Technical as well as Financial.
C2C Consultancy have excellent Project Management Team with customized programmed dedicated software and primarily Engineers who will do Pre-Project activities, identifying the issues and updating the Engineering documents & drawings, Co-ordinating with all statutory requirements of local Government. Co-ordinating with Management, Consultant, Contractors & Suppliers to get the materials and work done within the scheduled time. Follow up with Civil contractor regarding civil readiness to match with equipment delivery, Corrective action for the critical path to expedite the activities with the support of Management, Conducting periodical meeting between site engineers and contractors for every day planning, and updating current status to the management, Providing critical information to the management to avoid costly time over runs, Study the progress of every day activity to overcome any hindrance for smooth progress in project implementation., Getting Management support to avoid any slippage in the progress, Supervision, Clarification, Giving instruction to carry out the work at site with status report and by all means to expedite the project within the time and budget.
Q. Where does C2C project Paper Industry in the next decade, especially the Indian Paper Industry on the parameter of digitization and automation?
Paper Industry in India is moving up with a strong demand push and is in expansion mode to meet the projected demand by 2033. Paper touches our lives in every moment, with the rise in digitization, changing in life style, growth in literacy, Urbanisation, increasing consciousness for personal hygiene per capita consumption of paper and tissue in India is increasing by the day. Even if this per capita consumption increases by one kilogram, it will lead an increase of paper production by one million tonnes.
The emphasis on education and literacy coupled with growth in organised retail and demand for better quality paper are the major drivers of growth.Moreover, there has been continued demand for quality packaging of FMCG products, pharmaceuticals, textiles, organised retail, booming e-commerce, and other segments, it said.
Paper Industry in the country has undergone a transformation of sorts in the last few years. The industry has gone up the sustainability curve and has become far more technologically advancedand strong scientific background as well as long proven expertise of producing quality paper products.
There has been tremendous growth in the packaging paper segment and as per demand forecast the requirement will be about 45M TPA at the end of 2033from the existing production capacity of 25M TPA– C2C continuously putting their effort to meet the ever-growing demand for packaging from sectors like E-Commerce, F&B, pharmaceutical, QSRs and so on.
Existing production capacity at 2023 - 25Million TPA
Forecasted demand at the end of 2033 - 45Million TPA
Shortage in production capacity at 2033 - 20Million TPA
Additional paper plants required at 2033 - 250 Plants with minimum capacity of 1Million TPA i.e 300 TPD
After globalization of Indian market, demand for quality packaging paper is increasing but quality paper manufacturing is not growing as per the demand. Hence, the company shall fill up this gap by proposing a new paper industry. C2C's main focus is to seep into all corners of the Indian packaging industry for big capacity machines, bringing close to the forecasted demand.
Q.To enhance service support and solution delivery, local strategic collaboration is a good option. Is C2C looking for a joint venture for better analysis of service requirements on Indian soil or abroad?
Joint Venture is the ideal solution, if two or more companies in certain geographical regions or business functions want to share their unique strengths, synergies and capabilities but not want their identity lost. Most of the promoter's interested to complete the project under one roof with all services on Turnkey basis and For this we are working with European suppliers for the area required advanced technology and for moderate parts Asian suppliers are encouraged for all Paper Industry Machineries including Utilitiesto work together as Joint Venture to help customers to deliver their business goals with state of Art drive technology to achieve significant performance in stipulated time with less CAPEX.
Associated Institutions with C2C Consultancy
1. China CEC Engineering Corporation, China - R&D for Paper Machine
2. Aikawa Fiber Technologies Oy, Finland – Development for Stock Preparation
3. Yibin Changtai Engineering Corporation, China – R&D for Civil construction
4. Zhejiang Shuangyyuan Science @ Technology Development Co. Ltd., China –Development for Automation and Electrical
5. Central Pulp & Paper Research Institute (CPPRI), India- Got assistance for the required R&D facilities for evaluation of fibrous raw materials.
6. Anyang Machinery Co., Ltd, China- R&D for Pulp and Paper Machineries
Q. Please highlight new C2C projects for our readers.
The following are the running Projects
1. M/s. The General Company for Paper Industry Rakta (750 TPD) Alexandria, Egypt
2. M/s. Al -Badeha for Metal Works (450 TPD) Jordan
3. M/s. Quantum Group, (300 TPD) Lagos, Nigeria.
4. M/s. Aikawa Technology Helsinki, Finland (Technical support)
5. M/S. Elixrr Industries Private Limited Bharuch, Gujarat Nariman Project WLM1
6. M/s. Supreme Paper Mills Ltd, Kolkata, India. – Tissue
7. M/s. Trident Group PM#2, Barnala, India(Rebuild)
8. M/s. Al-Shumookh Group Paper Mills, (500TPD Kraft Test liner) IRAQ.
9. M/s. Keryas Paper Industry LLC, Unit-II, (600TPD) UAE
10. Undisclosed promotor at Saudi Arabia (800 TPD).
11. Undisclosed promotor at Abu Dhabi (600 TPD).
12. M/s. Kuantum Papers Ltd, Punjab, India PM#1, PM#2 & PM#3(Rebuild)
13. M/s PMI Group, Iraq (40 TPD Tissue Machine)

Web Title: Conversion of existing WPP to Packaging paper line is not feasible particularly consiering the financial loss because of down time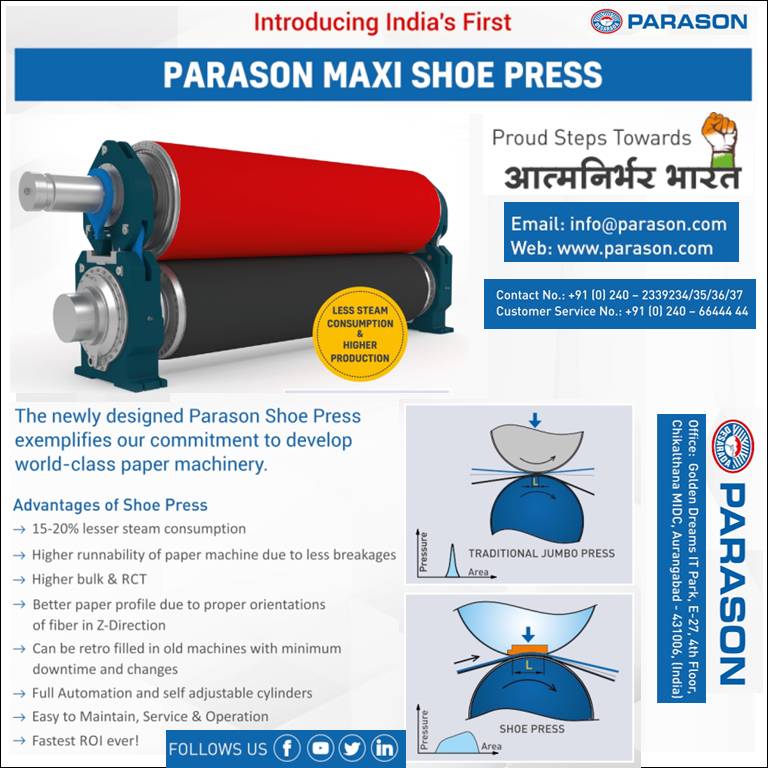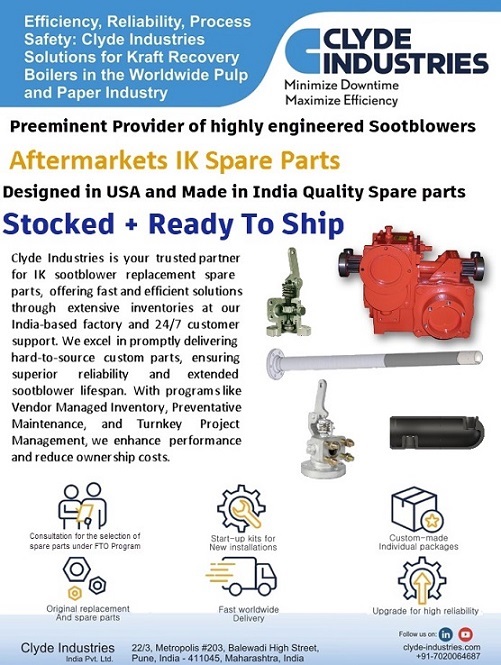 More News From interviews
Next Stories