Solenis introduced next generation Wet Strength Resin, pulping chemistries, and AKD production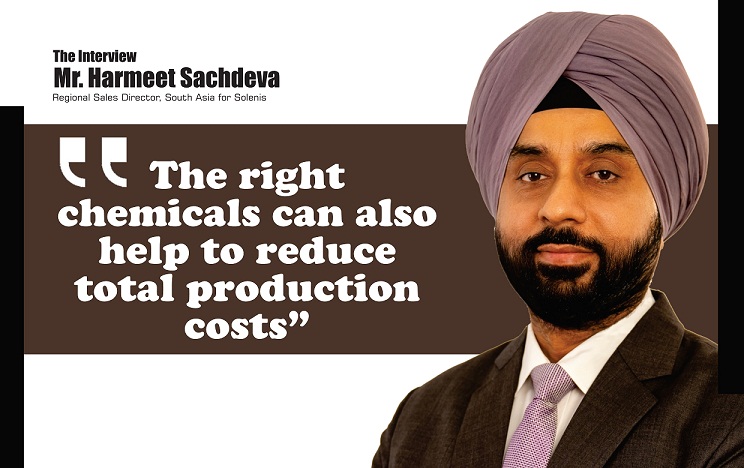 Solenis introduced next-generation Wet Strength Resin, pulping chemistries, and AKD production
'Solenis puts a lot of focus on understanding paper mills' process and operating conditions to ensure they have the right products being used in the right way'
'Solenis has made major investments in expanding Ankleshwar plant production by introducing next-generation Chemicals'
'Solenis offers a complete line of paper surface treatments that prevent water penetration and oil penetration'
Solenis is a leading global producer of specialty chemicals, focused on delivering sustainable solutions for water-intensive industries, including the pulp, packaging paper and board, tissue and towel, oil and gas, petroleum refining, chemical processing, mining, biorefining, power, municipal, and pool and spa markets. The company's product portfolio includes a broad array of water treatment chemistries, process aids and functional additives, as well as state-of-the-art monitoring and control systems. These technologies are used by customers to improve operational efficiencies, enhance product quality, protect plant assets, minimize environmental impact and maintain healthy water.
Headquartered in Wilmington, Delaware, the company has 47 manufacturing facilities strategically located around the globe and employs a team of over 6,000 professionals in 120 countries across five continents. Solenis is a 2022 US Best Managed Company.
Recently, The Pulp and Paper Times took an exclusive Interview with Mr. Harmeet Sachdeva, Regional Sales Director, South Asia for Solenis. Our team tries to learn the way of working Solenis with a paper mill process, introduction of new chemicals, and how a right chemical can help a paper mill reduce its total production cost. Here is his full Interview:
2022 | The Pulp and Paper Times:
Q: How long has Solenis been operating in India, and how does Solenis evaluate its' 'chemistry' with Indian Paper Mills?
Solenis has a rich heritage. We have been known almost 100 years as Hercules. Then, we became part of Ashland. We have companies like Houghton, Betz Dearborn, BASF Wet end Solutions,as a part of our portfolio. A new name Solenis was given in the year 2014. Coming together of all these names means a great assembly of world-class technologies, all brought together for our customers worldwide including India. That's why we are here and have really worked hard for our direct presence in the country.
Solenis is aligned with all local environmental health & safety regulations of customer site to facilitate safe and environmentally friendly operations. Our manufacturing facility at Ankleshwar, Gujarat is accredited with Responsible care (RC 14001), Environmental management (ISO 14001), and occupational health & safety management (ISO 45001) system.
The team contributes to business sustainability by providing technical support for development, production and sales, seeking compliance with regulatory requirements, and driving continuous risk reduction to our employees, facilities, customers, and community, through:
Q: Post Covid pandemic, Paper Industry has faced drastic changes like raw material crisis, increase in other input costs and demand, What is Solenis' quick review about the present condition of the Indian Paper Industry?
Our outlook for the Indian paper industry remains positive with continued growth in consumption and investments in new capacity expected. Consumption growth is driven by increases in disposable income leading to increased consumer spending, growth in e-commerce and government initiatives to reduce plastic waste. We expect to see the biggest growth coming from the manufacture of packaging but also expect to see continued growth in Tissue consumption.
The Indian paper industry has many of the same challenges as the global paper industry with increasing pulp costs, higher energy prices and shortages of recycled fibre, while Solenis has technologies that can help to reduce energy consumption and allow lower cost and therefore quality pulps to be used without sacrificing product quality.
One challenge that is more specific to the Indian paper industry is its heavy reliance on coal for power and steam generation. There is government legislation in place to reduce emissions from coal fired plants but increasing demands around sustainability and reducing emissions as well as increasing coal prices could mean there is a need for the Indian paper industry to look at alternative, cleaner and more sustainable fuels.
Q: Chemical is also one of the keys and critical components for paper manufacturing, last year major paper chemical companies increased the price of chemicals, Has Solenis also surged the price of chemicals? What is the reason behind these hikes?
As a consequence of continued and sustained cost increases in raw materials, energy and transportation, further price increases will be initiated for the selected products lines. The increase is necessary due to the significant impact on key feedstocks across the product range.
Q: One can relate using of chemicals in paper manufacturing to better quality and enhanced efficiency. How does Solenis' products win the' trust' of paper mills' owners? What new innovative chemical products have been developed by Solenis and delivered to the paper mills?
Chemicals are needed to give paper it's functional properties and to improve the operating efficiencies on paper machines. Additionally, the right chemicals can also help reduce total production costs by helping to reduce energy consumption, optimize fibre usage and minimizing waste and emissions.
Trust of the customer comes from continued good results and Solenis puts a lot of focus on understanding their process and operating conditions to ensure they have the right products being used in the right way to achieve consistently good results. This also means having products that are designed to work under the conditions found on Indian machines
There is an extensive list of new technologies introduced by Solenis that are delivering value to our customers. These include
• Generation 2 and 3 wet strength resins for improved health and safety and sustainability.
• Retention and drainage polymers to help reduce energy consumption and fibre loss and reduce overall production costs
• Biocide programs for improved bacterial control and reduced odor
• Dry strength technologies to improve paper strength and optimize fibre use
• Fluorine free replacements for PFAS oil and grease sizing products
• Plastic free and biodegradable/compostable barrier coatings
• Creping and release technologies for improved Tissue quality
• Additives to help improve pulp yields
Q: Indian Paper industry has seen massive capital investment in the last 5 years, new capacities have come up in the market. Paper Chemical needs several trials for better results. What major changes does Solenis see in Paper Industry as far as concerned investing in chemical technology?
Solenis has made major investments in expanding Ankleshwar plant production by introducing next-generation Wet Strength Resin, pulping chemistries, AKD production besides from making Dyes, chemicals for Thermal Papers, which are being exported across the globe from India.
Paper Machines are getting bigger and advanced in terms of technology. At the same time, Solenis is fully equipped to meet the needs of the customer through its advanced chemical solutions which are mentioned above.
Q: Please shed some light on Solenis' offering for the paper and packaging industry and its manufacturing facilities all across the world.
As the top chemical supplier for paper and packaging industry, Solenis focuses on not only developing innovative chemistries internally to drive sustainable growth, but also acquiring companies with best-in-class solutions globally to better serve our customers. For example, Solenis acquired a Belgium based company Topchim, which has strong product portfolio in barrier coating with more than twenty years of extensive commercial experience in Europe. With the global platform of Solenis, we can extend these start-of-art technologies and bring products to our global customers.
As another example, in 2019, Solenis merged the paper and water chemical business from BASF, this helps Solenis build stronger product pipelines and integrates upstream to downstream channels to better serve our customers. Solenis owns and operates more than 40 manufacturing facilities across the world. This ensures the products can be produced freshly and delivered to customers in a timely and effective manner. This becomes even more critical during the period of global pandemic and logistic interruption.
Solenis' team has constantly delivered the products to customers at >99% accuracy rate to satisfy customers' demand. This is a hard to beat target and speaks for Solenis' performance of excellence in delivering values to our customers.
Q: Odor in Paper is a major hurdle in making food-grade paper. How does Solenis provide 100% solution for making odor-free paper?
As a leading chemical supplier, Solenis has dedicated to delivering chemical solution to our customers, helping address the challenges and process issues throughout the production. Starch, organic component in the fiber, volatile organic chemicals used, and even untreated water could all contribute to the odor in paper.
Solenis offers a variety of broad-spectrum, water-dispersible microbiological control agents, including oxidizing biocides and non-oxidizing biocides, that inhibit microbial growth in industrial processes and prevent additive spoilage.
Our non-oxidizing biocides include standard active products and proprietary blends, and our oxidizing biocides include conventional technologies, such as hypobromous acid and hydantoins, as well as novel technologies that dramatically reduce microbiological activity without any of the adverse side effects associated with strong oxidizing biocides.
Regardless of the type of product employed, our microbiological control programs are designed with careful consideration given to safe handling and operation and utilize state-of-the-art chemical feed systems with advanced monitoring and control capabilities.
Q: Nowadays, paper packaging keeps an edge over the product, How do Solenis products (coating) improve the printability, smoothness, coverage, and strength of paper?
Papermakers rely on a variety of surface treatments to enhance the functional and visual properties of their paper and board products. Solenis offers a complete line of paper surface treatments that prevent water penetration and oil penetration as well as treatments that improve performance properties such as coefficient of friction (COF), sizing, printability, toner adhesion, scuff resistance, surface strength, porosity, and offset and inkjet print performance.
For printing papers, surface treatments offer product options for reducing fiber wettability and the radius of the pores or capillaries, making liquid penetration more difficult. For the inkjet and other digital print markets, there are a variety of demands that our paper surface treatments help balance, such as water fastness, print density and print clarity for both dye-based and pigment-based inks. For other digital print there are a variety of toner adhesion and holdout demands that are met using tailored surface treatments for this market.
The demand for sustainable paper and paperboard packaging has increased dramatically in recent years because consumers have become more mindful of the effects their buying choices have on the environment. This trend has put significant pressure on paper and paperboard packaging producers to eliminate their use of barrier coatings that employ polyethylene, paraffin-based waxes, silicones and fluorochemicals and to switch to using more environmentally friendly barrier coatings, especially in food and beverage packaging applications.
Solenis' portfolio of barrier coatings for paper and board includes a range of products that repel water and water vapor, hot and cold liquids, and oils and greases. These barrier coatings are available as either water-based polymer emulsions or solid bio waxes and are produced using the highest level of renewable raw material content currently feasible. Most importantly, paper and board coated with these barrier coatings typically are repulpable, recyclable, compostable and biodegradable, thereby offering paper and paperboard packaging producers a way to improve their sustainability credentials with brand owners, retailers, and consumers.
Q: Globally, the paper industry has been heading towards less-chemical paper making gradually, how does Solenis see this trend and support the paper mills in achieving this goal?
In our operations, our focus is on ensuring responsible stewardship of natural resources. This includes making sure that all of our sites meet or preferably exceed all regulatory and environmental requirements; keeping abreast of and, at a minimum, complying with changing applicable environmental laws and regulations; and providing products and services to our customers to help them meet or exceed their own environmental objectives.
Chemicals are needed to produce paper; without them paper would not have the required properties for its end use. Paper made without chemicals would be too absorbent for printing, too weak for packaging and so on.
Key is to minimise the use of chemicals is minimised and ensure that the chemicals being used are more sustainable. Could mention innovations such as G2 and G3 wet strength resins, our new barrier coating's and possibly even onsite production of products
Q: BASF and Solenis have completed the merger of BASF's wet-end Paper and Water Chemicals business with Solenis. What is Solenis' current market size in Pulp and Paper chemical business in India and globally? How does this merger benefit the paper industry in terms of product portfolio?
Solenis, a leading global producer of specialty chemicals, has been acquired by Platinum Equity from Clayton, Dubilier & Rice (CD&R) and BASF in a transaction worth $5.25 billion. Both CD&R and BASF have fully exited Solenis.
India is an emerging territory now for Solenis and we are and will continue putting resources to the market.

Web Title: Solenis introduced next generation Wet Strength Resin, pulping chemistries, and AKD production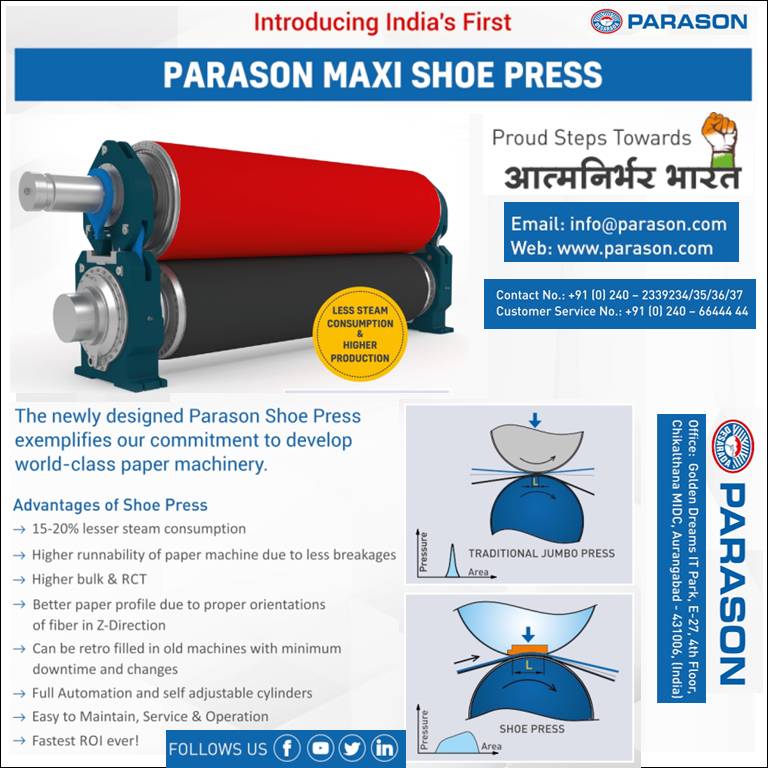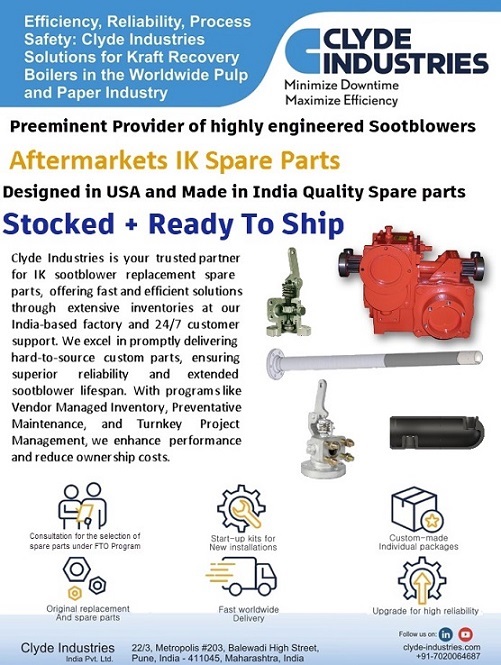 Next Stories