'Our Hydraulic Jet headbox is designed and manufactured with the latest European standards, running successfully at Emami Paper Mills' – Scan Machineries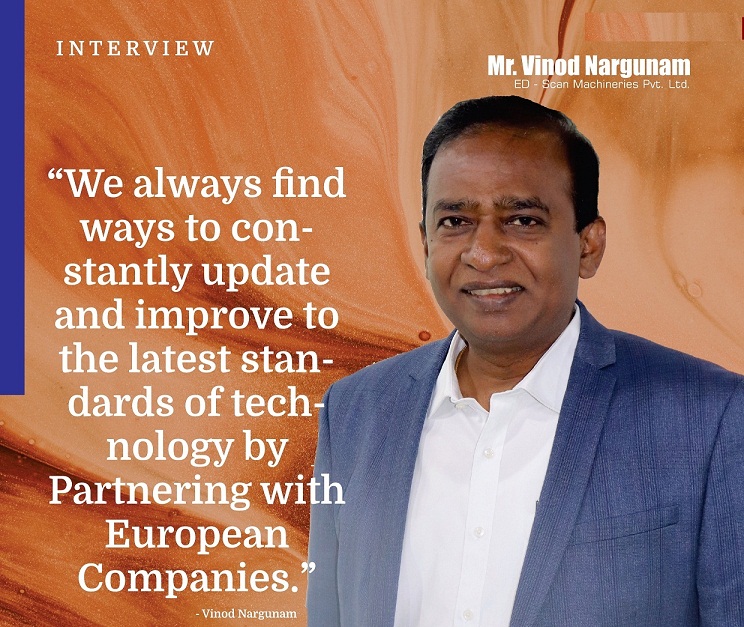 'Our Hydraulic Jet headbox is designed and manufactured with the latest European standards, running successfully at Emami Paper Mills' – Scan Machineries
- Scan Machineries is also doing a 400 TPD project for Suvarna Durga Paper Mills in Hyderabad
- Recently, supplied a complete Hydraulic Jet Headbox to Emami Paper mills.
- We are the only supplier offering the highest quality and cross-directional uniformity of paper web in the market with our headboxes
- We also partner with European companies to update our machines and give rise to new product offerings with immense value for our customers.
The ED of Scan Machineries Pvt. Ltd., Mr Vinod Nargunam, recently spoke with The Pulp and Paper Times. Mr Nargunam talks about the paper machine market scenario, new advancements & product developments, new projects and technological up-gradation in paper machine manufacturing. This is the complete interview:
August 2022 | The Pulp and Paper Times:
Q: Please give us a small introduction of Scan Machineries
Scan Machineries engineers, designs and manufactures complete paper machine production lines and undertakes turnkey paper mill projects for paper mills present around the globe. Scan also designs and manufactures Hydraulic Jet headbox, Rectifier Roll Jet headbox, Swimming Calendar Rolls and High Speed Winders and Rewinders. We undertake rebuild projects and have also been offering our consultancy services for Paper Mills around the globe. Our Passion for Paper has always been our motto and we strive to offer supreme quality and engineering of Paper Machines, it's parts and services for our customers.
Q: Please shed some light on the Paper Machinery Market post-COVID, What is the situation?
After the COVID, demands of paper have increased on many fronts and now the writing printing paper market has also come back and there are more and more packaging demands. The market is going up and we as machinery manufacturers have got good orders at the moment. The customers want the best technology at a very cost-effective price which we at Scan Machineries are able to meet that expectation. Recently, we have supplied a complete Hydraulic Jet Head box with Emami Paper mills. We already commissioned a new 200 TPD plant at Siliguri. We are also doing a 400 TPD project for Suvarna Durga Paper Mills in Hyderabad. So all these projects are with the latest technologies and the one with Suvarna Durga is a completely closed draw starting from the wire section to the unirun section. Customers can also inbuilt a shoe press with very little modification in the future. There are more products that we are developing, and today there is no need for Indian paper mills to import anything second-hand. Previously about 10-15 years back customers were importing everything from Europe (second hand) and now we as manufacturers have increased our technology to the latest standard. We have improved our technology to the state of art and we are able to meet all our customers' demands.
Q: Please share your success stories of engineering execution and its delivery.
Scan Machineries constantly updates and improves the designs of our paper machinery to the latest standards and quality. We also partner with European companies to update our machines and give rise to new product offerings with immense value for our customers. We are manufacturing many Hydraulic Jet headbox and Rectifier Roll Jet headbox completely in-house in our production facility. Our Hydraulic Jet headbox is designed and manufactured with the latest European standards and is presently running successfully at Emami Paper Mills offering the best cross-sectional profile with a uniform fiber jet in the market currently. Our Rectifier Roll Jet headboxes have been sought after in the market for it's high performance and we have received orders from many Paper Mills both in India and for exports such as Waraq Paper Mills, Saudi Arabia. Our high speed winders and rewinders are located at various places all over the globe with new technology offerings such as automatic splicing and automatic slitter positioning systems for increased safety and productivity. Our swimming calendar rolls which have been manufactured in house are running excellently in our customers locations. One such customer had decided to replace their Chinese bought calendar with ours and is extremely satisfied with the quality. Our execution of Turnkey Paper Mill projects have been implemented at various Paper Mill locations such as Kenya and Zambia. All in all, if a person decides to setup a Paper Mill project. They just have to send us an enquiry or give us a call and our team will guide you in every step of your new Paper Mill project journey.
Q: Does technology play an important role in successful delivery? Are you open to any Joint venture for the development of better engineering delivery?
Definitely, it does play a vital role. Scan Machineries is known for the engineering and technology quality of Paper Machinery and the services that they bring to the table. Many of our customers have been witnessing our product offerings and benefits and this has become one of the sole reasons Paper Mills decide to place an order on us. Scan being an engineering company always find ways to constantly update and improve to the latest standards of technology by partnering with European companies. This is the main reason why we are open to Joint Ventures which enable us to offer paper machinery with the highest quality and value for our customers.
Q: What obstacles do you see in paper mill operations which stop a paper mill to grow with better margins?
One of the major obstacles is the non-availability of raw materials and the price factor involved in the raw materials. Financing at low-interest rates also helps Paper Mills grow with better margins whereas high-interest rates would hinder their growth. Non-availability of water within a close proximity is also an issue for Paper Mills. Paper Mills not adopting to the latest technology and expanding their production rate can also hinder the margins. Also better forestry cultivation by allocating separate lands to Paper Mills by a government initiative can help the margins grow on the other hand.
Q: Recently, many paper mills have faced the heat of the waste paper crisis. Now most of paper mills are thinking to shift to the alternative raw material such as agro residues. Are you planning to launch any agro residue machine or rebuild the existing machine?
Yes we are rebuilding the machines in the market for our customers but we are not into the pulping sector of the agro waste. We want to specialize in the paper machine and we want to be the best at it and offer the latest technology in the paper machines to the Indian customers. So our focus is only on that right now.
Q: Any new technology on which you are working and will deliver to Paper Industry in the coming time?
Right now, we are working on the headboxes. Our Hydraulic Jet headbox works very well with significant increase in paper sheet quality. Currently, in India we are the only supplier offering the highest quality and cross directional uniformity of paper web in the market with our headboxes. We are using a different kind of technology which we have improved upon in which we were able to get very good results of the end paper sheet quality with our customers such as Emami Paper Mills and we are also having two or three orders on the pipeline. In India, right now most of the headboxes are imported from other countries. Scan Machineries resolves that issue now by offering the best headbox quality in the market. Our Hydraulic Jet Headbox and Pressurized Rectifier Roll Jet Headbox come along with the most advanced automation in the market. We are exporting our latest pressurized rectifier roll headbox to one of the leading Paper Mills in Saudi Arabia and this will be a significant step for our market growth to other countries and continents.
Q: Apart to head box, any other product you are offering?
Our product offering to our customers have increased significantly. We manufacture High Speed Winders and Rewinders. We are doing very well in winder portfolio, our rewinders are operating at 2000 MPM and we have received a lot of export orders as well. Our current highest we will be able to meet is a deckle of 5.5 meters also at 2000 MP speed. Now our winders come with automatic splicing and automatic slitter positioning systems for increased safety and productivity. We manufacture both Hydraulic Jet headbox and Pressurized Rectifier Roll headbox. Our customers such as Emami Paper Mills have witnessed the significant difference in their paper sheet quality and cross directional uniformity using our headbox. We also manufacture swimming calendar rolls at our own production facility. Our next project Suvarna Durga Paper Mills at Hyderabad will have a fully closed draw Paper Machine supplied by us. With this, the paper mill will be able to produce both lower GSM as well as higher GSM in a very efficient way as there's no open draw from the press section up to the unirun and there is very little modification to be done when the customer decides to in built a shoe press on to the press. This will significantly improve the runnability of the machine and we'll be the first manufacturer in India to offer that to our customers.
Q: There has been a perception among the top paper mills of India that the international paper technology suppliers are better than the domestic suppliers. What reason behind do you see?. Why do our domestic suppliers even they are nowadays working on international orders, are not at par to the international supplier?
Firstly I would like to point out that International suppliers invest heavily in their Research and Development projects to better their state of the art technology. This is much higher than what the domestic suppliers can invest with. That being said, we at Scan Machineries are always finding ways to update our technology to the current state of art by partnering with international companies and increasing the value we bring to our customers. We manufacture almost all the imported products customers used to procure from other countries within our production facility now such as Hydraulic Jet headbox, Pressurized Rectifier Roll headbox, High Speed Winders and Swimming Calender Rolls with internals. Our customers feel the tremendous value we bring to them by our product offerings compared to our competitors in the domestic market and because of this reason leading Paper Mills in India and other countries place orders on Scan Machineries.
Q How do you execute the training and support post-sale of your delivery to the paper mill?
Earlier we used to offer training of our products at the customer's locations but now we see a sharp rise in offering training to our customers via online applications with webcam flexibility especially in cases of our export clients. One of our commissioning and execution teams also arrives at our client's Paper Mill location to demonstrate and train their team on our delivered products. We train them in running the machines smoothly and efficiently on a day-to-day basis. Our post sale can be done in both online and in presence where our team is deployed to attend and solve the issues faced by customer.
Q: What is the future of paper industry do you see in next five years?
I have a feeling in next five years, paper industry will have significant growth. Packaging papers and Board and Hygiene Papers are going to be the major sectors at which we will witness tremendous growth. Graphic Papers will not have as much growth compared to Packaging papers but will be a very interesting paper segment which leads to rise of newly adopted particular types of paper.
Web Title: Our Hydraulic Jet headbox is designed and manufactured with the latest European standards, runnin successfully at Emami Paper Mills – Scan Machineries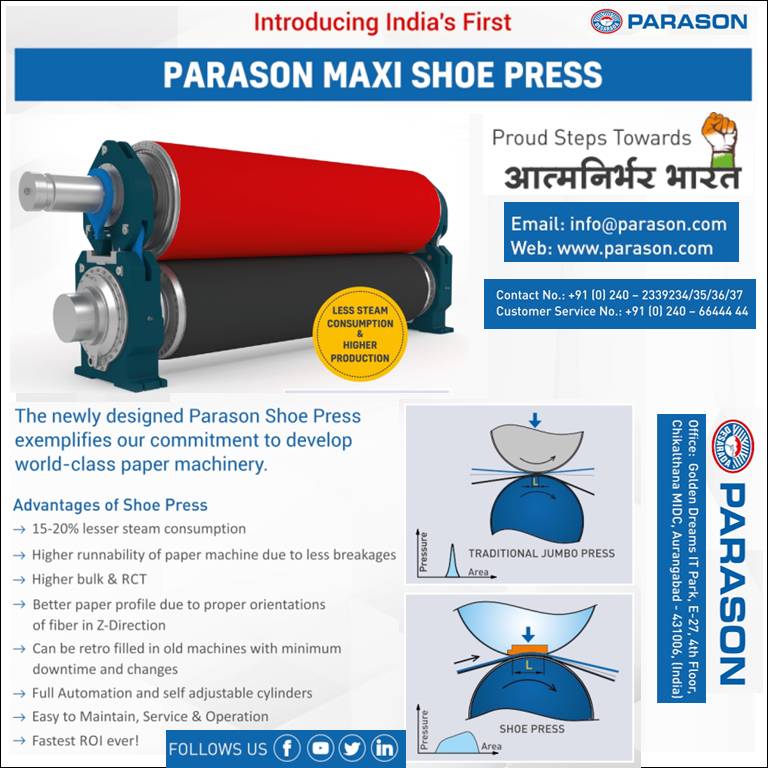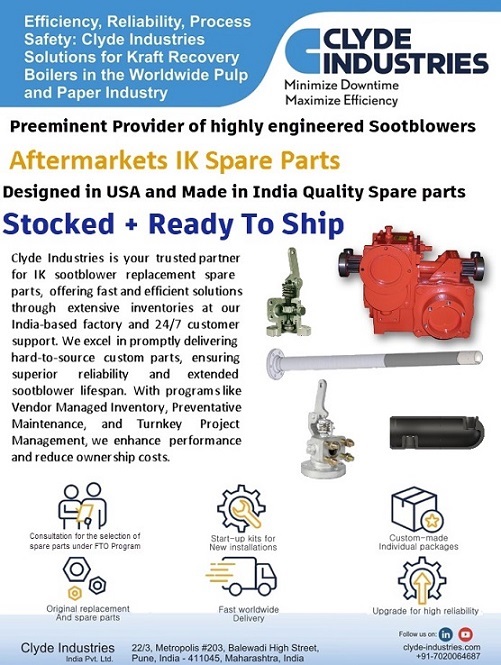 Next Stories