Global demand for graphic papers is expected to decline by 2 million tons in the next 3-4 years : AFRY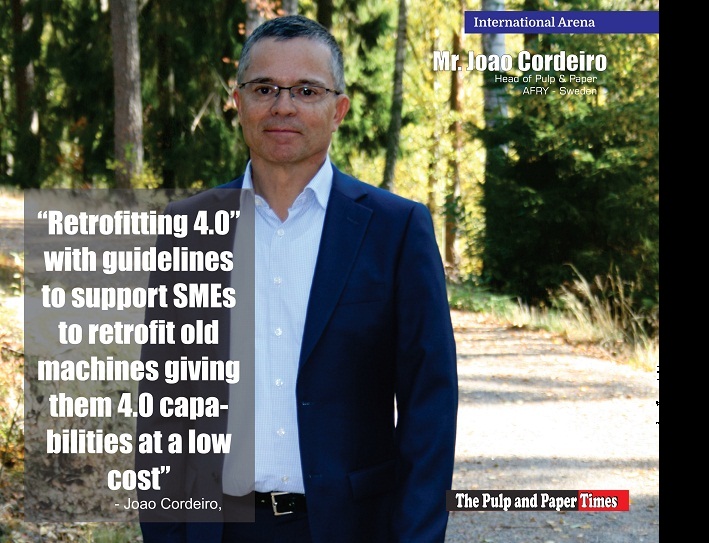 Global demand for graphic papers is expected to decline by 2 million tons in the next 3-4 years : AFRY
- Non-wood pulps in papermaking is expected to remain only marginal in the future
- The solution to the digitalisation dilemma demands not only an expertise of application solutions but, more importantly, a sound understanding of industry technologies and processes
- Retrofitting 4.0" with guidelines to support SMEs to retrofit old machines giving them 4.0 capabilities at a low cost
Recently The Pulp and Paper Times spoke to Mr Joao Cordeiro, Head of Pulp & Paper at AFRY, a European leader in engineering, design, and advisory services, with a global reach, on the various existing and future-oriented aspects of paper-making technologies, ERP solution, Industry 4.0 and other issues with regards to global paper industry and specifically Indian Paper industry. Here is his full Interview:
Q: Please give us a small introduction to AFRY?
AFRY is a European leader in engineering, design, and advisory services, with a global reach. We accelerate the transition towards a sustainable society. We are 17,000 devoted experts in infrastructure, industry, energy and digitalisation, creating sustainable solutions for generations to come.
AFRY Process Industries division delivers leading engineering and consulting services for the global Pulp & Paper, Chemical, Biorefining, Mining & Metals and Food & Beverage industries, with a special focus in growth sectors such as batteries, green hydrogen, cellulosic manmade textilefibres and plastic recycling.
Our offering extends the entire business lifecycle, from early strategic development phases to large CAPEX implementation projects and rebuilds, including operational support, and is based on a strong combination of process technology competencies, multidisciplinary engineering expertise, and project management capabilities. Digitalisation, safety, and sustainability are key to our services.
AFRY has held a firm leading position in advisory, design and implementation of large-scale biomass refining projects for more than six decades, on a global scale.AFRY is ranked #1 in Pulp & Paper, #2 in Food & Beverages, #3 in Chemicals (non-petroleum) #7 in Mining, and as #9 in steel and non-ferrous metals. (Source: A2021 Engineering News-Record (ENR) Global Sourcebook)
Through the AFRY groupwide offering clients gain access to a portfolio of cross-sector consulting and technical services covering environment, infrastructure, industry, energy and digital solutions, which are critical in all industrial projects.
At AFRY, our mission is to accelerate the transition towards a sustainable society. We are fully committed to support our clients in further developing and improving their sustainability achievements in all areas of environmental and social performance, as these topics form the foundation for our entire operations. Furthermore, we have developed a large number of services around Sustainability and Health and Safety, where we can support our clients on their journey towards a more sustainable future. We are pleased to discuss these topics in more detail.
Q: What is AFRY's global analysis for Pulp and Paper Industry post-COVID pandemic? What new trends in the Product Mix of Paper Mills arising out?
The world production of paper and board has grown from 50 million tons in 1950 to 422 million tons in 2021. The paper market has been following the ups and downs in the world's economic activity, with a couple of bigger, temporary disruptions in the 1970s and 1980s, and three contraction points in the 2000s and 2010s. The latest decline in paper and board production, at a global level, was in the period 2017-2020, but overall production rase sharply during 2021.
In the 1990s, the paper market was still growing at an average 9 million t/a. The economic recession and consequent weakening of paper demand in 2008–2009 slowed down the average annual global growth in 2000-2010 to about 7 million t/a.
The markets resumed a growth trend in 2010 in line with the economic recovery. However, the growth of the world paper market remained at a permanently lower level up to 2016 (0.7%/a or 2.7 million t/a). From 2016 to 2017 demand picked up before the impacts of the US-Chinese trade skirmish muted growth again.
One of the most striking features of the global paper and board market in the new millennium has been the fast growth of the rising markets as opposed to stagnating or declining demand in the West. AFRY expects the global paper and board production to reach some 440 million tons by 2025.
The current market can be divided into three main categories: (1) tissue papers, which are used in applications such as toilet rolls, kitchen towels, napkins and handkerchiefs. In relative terms, this is the fastest growing segment and global demand is expected to rise from current 40.5 million tons to 46.3 million tons by 2025.
The second segment is the largest comprising of (2) packaging and industrial papers and boards. Global consumption reached some 280 million tons in 2021 and is expected to rise above 304 million tons by 2025. It benefits from the global sustainability trends as fibre-based packages are preferred in many applications, even substituting single-use plastic packaging solutions. Corrugated containers, folding boxboards, sack and kraft papers benefit tremendously from the rise of e-commerce as they are used as transport packages.
The third segment are (3) graphic papers, used in magazines, newspapers, as copy papers and for periodicals. This group of papers has been suffering strong substitution from digital media – global demand for graphic papers is expected to decline by 2 million tons in the next 3-4 years, from the current 93 million tons consumption.
Q: Indian Paper Industry has faced the heat of non-availability of recovered paper in last two years, does AFRY think that paper manufacturers should think about alternative fibers such as Agro Residue? Can technology help a paper mill to run Paper machines on both fiber (Recovered and Agro)?
The growth of recovered paper collection is slowing down globally due to already high collection rates in many mature markets. India and emerging Asia, as well as Latin America, still have prospects to increase collection rates and volumes from the present levels – but this requires a major change of consumer habits and the build up and improvement of existing recovered paper (and waste) collection infrastructure and networks. With the present recycling networks, any gains in terms of collection volumes in the emerging Asian countries will be hard to achieve.
In addition, the weakening availability of graphics papers for collection will hamper the collection volumes across the globe and become an obstacle for increased usage. In tissue paper, high grades will lose share to bleached kraft pulps, and in consumer boards, the use of ONP, mixed paper and high grades will be replaced by mechanical, chemical and semi-chemical wood pulps.
Non-wood pulp production still accounts, globally, for only a small part of the pulp industry. Although many non-wood raw material resources are available, current non-wood capacity is only about 4% of the global pulp capacity. Bamboo is probably the most promising non-wood raw material for further processing due to unrestricted harvesting time and the relatively large size of bamboo stems. Sugarcane bagasse fibres are also suitable for a wide variety of papermaking applications, but typically those industrial residues are priced based on their energy value, which often reduces the competitiveness. New technologies being developed to utilize straw from agriculture crops (such as wheat and rice) promise to improve the quality and economics of scale for production. However, non-wood raw materials face strong competitive pressures from wood pulps. The main challenges of non-wood pulp typically include
1) Pollution issues and tightening environmental control,
2) Relatively small size and high capital requirements of non-wood pulp mills, as well as
3) Seasonal supply of raw materials connected with logistic and storage problems.
Quality issues relating fibre characteristics also exist, primarily due to the high silica content of non-wood fibres. Despite increasing interest in non-wood opportunities in specialty applications, the global share of non-wood pulps in papermaking is expected to remain only marginal in the future.
Q: Being an engineering and consulting company, what are the grey or focused areas AFRY does see in the paper industry process which need to be addressed at the preliminary level?
Please see other responses
Q: The industrial world is facing rapidly changing challenges. Our resources are finite, and we all need to do more with less. Digitalization and automation are the game changers to meet these challenges on the way to Industry 4.0. It is essential to collect, understand and use the massive amount of data created in the Industrial Internet of Things (IIoT). How does AFRY support the Industry 4.0 concept in the paper process?
To be successful in the future business environment, companies must adopt industrial digitalisation at individual sites and end-to-end across the value chain, from raw material to end-user markets. Digital solutions within industrial production can help businesses to evolve and increase productivity, improve the efficiency and traceability of supply chains, enhance overall efficiency, reach better safety, predict more accurate production volumes, or prevent unscheduled maintenance stops.
At AFRY we continuously improve utilisation and integration of data and digital technologies to optimise project execution and to ensure that engineering data (ET) is available in one single source from the early project phases to the operational phase, enriched with operational data (OT). In our opinion, the solution to the digitalisation dilemma demands not only an expertise of application solutions but, more importantly, a sound understanding of industry technologies and processes.The digitalization focus is on boosting productivity and process reliability, while minimising operating costs and increasing sustainability of the industrial operations.
Typically, industrial operators already gather data from production processes, production control systems, business control systems and even their partners. However, this data is utilised only marginally, and is limited to specific operations, or is not used at all. When taking the next step and combining the data collected from various sources on a single platform and having the option to input additional data, we can easily optimise production processes, develop operation models as well as effectively make strategic business decisions.There is a generally established concept that sustainability is only achieved at the expense of productivity and efficiency. Digitalization of industrial processes help the companies to improve the utilization of the natural resources such as energy and water, by reducing losses and inefficiencies in the production and operational processes, thus directly supporting companies to reach their sustainability goals.
For instance, the World Economic Forum created a new term for describing this convergence between Technology and Sustainability called Eco-Efficiency which is defined as "Eco-efficiency is the outcome of 4IR technologies that, when directed to solve business problems, simultaneously boost productivity and sustainability. This concept of efficiency has three dimensions. 1) First, it involves digital technology that enables data-informed actions across production and the end-to-end value chain. 2) Second, it demonstrates measurable improvements across performance indicators including cost, agility, convenience, and quality. 3) Finally, it drives sustainability gains by reducing consumption, resource waste, and emissions."
Q: Being a Capital intensive industry, can a small or medium size paper mill imbibe the Industry 4.0 concept to increase its operational efficiency at an affordable cost?
Yes, one of the main characteristics of the digital technologies is that it doesn't depend on large CAPEX investments to be done. Most of the Industrial IoT solutions, for example, can be implemented following the "As a Service" (or SAAS) Business Model, which is very common in the Internet world and without (or with very low) CAPEX required. Another initiative worth to mention is the one created by the German Association of Machine Manufacturers (VDMA) which recently created a methodology called "Retrofitting 4.0" with guidelines to support SMEs to retrofit old machines giving them 4.0 capabilities at a low cost: "In order to remain successful in the age of digitalisation in the future, it is necessary to integrate the large number of existing machines of operators, manufacturers and component suppliers of machinery and plants into the Industry 4.0 world and make them fit for the future. This should ideally be done as quickly as possible and at the lowest possible cost.
However, there are many machines on the shop floors that are not brand new and therefore not interconnected. The existing machines must be integrated into the Industrial Internet of Things (IIoT), a digital retrofit has to render the existing machines "future fit". However, upgrading existing machines with sensors as well as the interconnection of machines and systems poses major challenges for the companies."
Our recommendation is that in path towards Industry 4.0 digitalisation strategy needs to be defined first before implementing single digital solutions. It is important to have the holistic view and plan every digital solution to be integrated with each other to gain all the benefits in future.
Q: Does AFRY provide Enterprise Resource Planning (ERP) solutions to Paper Industry? How can ERP help paper mills in making paper processing error-free and profitable?
Yes, we support our clients in the Pulp &Paper Industry to design, specify or upgrade their ERP systems, as part of what AFRY calls the Digital Foundation of the Mill of the Future. The ERP is one of the central components of our AFRY Smart Site framework and although most of the companies today are aware of the importance of the IT x OT Convergence, for the benefit of the optimization of the Operations & Maintenance of industrial processes, our approach goes beyond that and brings the Engineering Technology to this equation.
We support our clients in the P&P industry on realizing the full vertical ET-OT-IT integration ensuring that the key systems are designed (since the early stages of the plant lifecycle) having in mind the data exchange, breaking the silos of information and the "Single Source of Truth" as one of the main components of the Digital Foundation.
Q: How does AFRY study and analyze the whole lifecycle and value chain of a client's business and provide solutions?& Q9. Where does AFRY project Paper Industry in the next decade especially the Indian Paper Industry on the parameter of digitization and automation?
We see the increase of the application and adoption of Artificial Intelligence and Predictive Technologies. Companies are starting to scale up from the small pilot and proof of concept projects and we foresee an wide adoption of this type of technologies in the coming years with the expansion of use cases in areas such as Smart Maintenance (Asset Reliability), Smart Quality, Smart Energy, Smart Worker (Health and Safety). Another trend for large enterprise is the creation of Remote Operations and Intelligence Centers that aims to take automation and productivity to another level, promoting continuous innovation and process improvement, reducing the dependency on high skilled and scarce human resources, thus going forward the autonomous plant operations. These centers are composed of subject matter experts with deep domain expertise in the assets, processes, products, technologies, and services that make up the business.
Q: In an interview with 'The Pulp and Paper Times', World Packaging Organization (WPO)'s President claims that Plastic Bags has seven times less environmental impact than to paper bags, he says that in the total picture, the science and technology behind making paper are too costly than plastic. How do you take his claim?
Life cycle analysis are extremely useful tools to verify the footprint of products, services and materials. However, benchmarking the footprint of different products can be difficult as the chosen boundaries of the life-cycle assessment will affect the results. Plastic polymers are feedstocks of great characteristics and typically come at very competitive prices. The issue with plastics is their usage and disposal. Single-use plastics are being banned globally by local authorities, governments, and brand owners. Single-use plastics are goods that are made primarily from fossil fuel–based petrochemicals and are meant to be disposed of right after use—often, in mere minutes. Petroleum based plastic is not biodegradable and usually goes into landfills where it is buried, or it gets into the water and finds its way into the ocean. They also degrade into tiny particles after many years. In the process of breaking down, it releases toxic chemicals (additives that were used to shape and harden the plastic) which make their way into our food and water supply. These toxic chemicals are now being found in our bloodstream and may cause cancer, infertility, birth defects, impaired immunity and many other ailments. Chemical plastic recycling will improve the negative impacts of these materials, but existing fibre-based packaging solutions are excellent substitutes as they are fully compostable, degradable and recyclable. Major brand owners are voluntarily adopting plastic free solutions and often choose a fibre and paper-based solution.
Q: To enhance service support and solution delivery, local strategic collaboration is a good option. Is AFRY looking for a joint venture for better analysis of service requirements on Indian soil?
In order to address the Indian market a local strategic partner network is of the essence. AFRY's role is to act as technology independent ecosystem integrator brining always the most optimal solution and partners to each customer projects.
AFRY's leadership originates from more than 60 years of experience and a unique combination of process technology specialist skills, multidisciplinary engineering talent and know-how of thelarge project implementation.As an example, AFRY has selected INFOSYS as our global partner and we have executed together many engineering tools sharing and training activities, including an ongoing Pulp & Paper Mill Expansion in India. This partnership will provide a better understanding of our clients' needs, requirements, methodologies and also the insight of the local codes and regulations applicable to projects to be implemented on Indian soil.

Web Title: Global demand for graphic papers is expected to decline by 2 million tons in the next 3-4 years : AFRY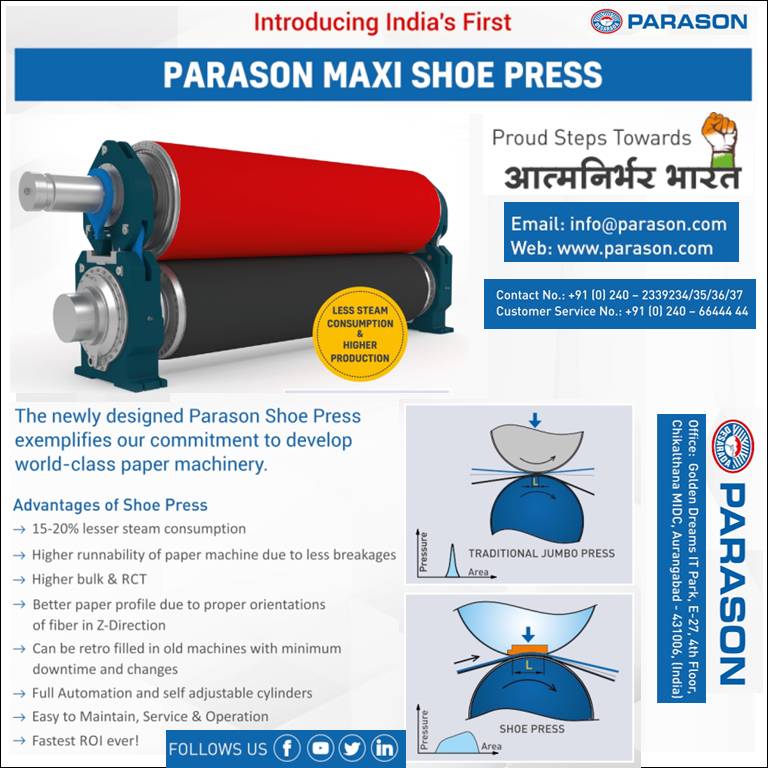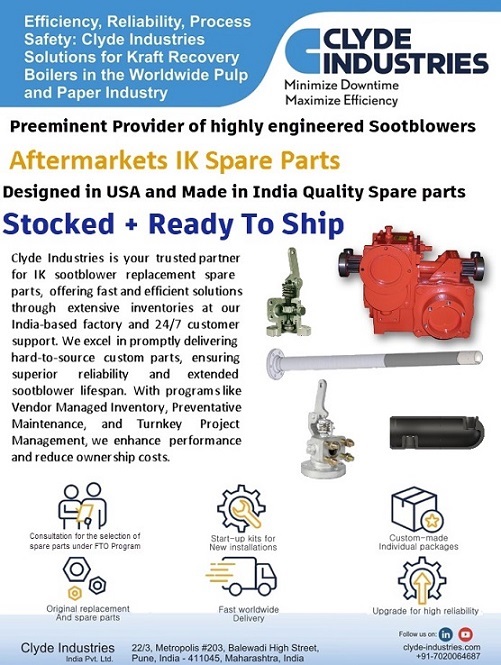 More News From international
Next Stories