"Lean period for paper demand is expected to be over by October, NEP will further boost the demand and prices" : Rajneesh Oswal, CMD, Shreyans Industries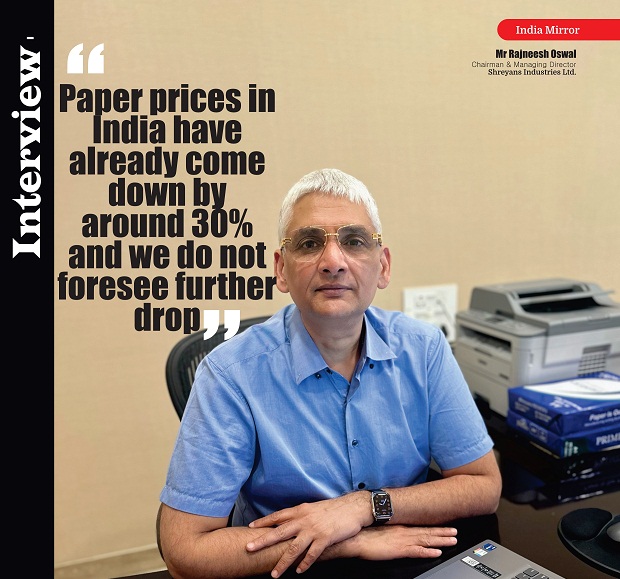 "Lean period for paper demand is expected to be over by October, NEP will further boost the demand and prices" : Rajneesh Oswal, CMD, Shreyans Industries
- Paper prices in India have already come down by around 30% and we do not foresee further drop"
- SIL is actively working to enhance its product portfolio within WPP category
- SIL has recently launched agro based multipurpose paper product range such as Copier paper.
- The market for WPP should rebound in the next 2 months or so.
In an exclusive interview with The Pulp and Paper Times, Mr. Rajneesh Oswal, Chairman and Managing Director, Shreyans Industries Limited, shares his thoughts on several topics, including paper prices, demand forecast, ESG, and Import and Export of Paper. He also discusses SIL's future growth strategy, expansion and potential for new products. Here is the whole interview he gave.
The Pulp and Paper Times | August 2023:
Q: Please give us a brief introduction of Shreyans Industries Limited (SIL) and its Paper Division
Shreyans Industries Limited (SIL) was promoted by Shri D.K Oswal, a well known industrialist of Ludhiana, in the year 1979 and commenced its commercial production of writing &Printing paper in 1982 at Ahmedgarh (Punjab). The company acquired another Unit of writing &Printing paper from M/s Zenith Papers at Ropar (Punjab) in the year 1994. The initial installed capacity of both the plants was 30 TPD each which was gradually increased to 150+ TPD for each unit through up gradation and modernisation of plant & machinery. The total production capacity of both the units is now 350 TPD appx. The Company is managed by Mr. Rajneesh Oswal as its CMD and Mr. Vishal Oswal as VCMD.
Q: How do you analyze the current market scenario for Writing & Printing and copier segment?, prices is declined and also input cost for raw material and energy have come down. How do you see the next 3 to 6 months for WPP segments?
Prices of WPP have decreased more sharply in the last about 2 months than the price of raw material, fuel & inputs. This could also be due to set on of seasonal lean period. The paper industry recorded a fairly good performance in the first quarter. However, raw material prices for agro based mills have gone up suddenly followed by slackness in paper demand. It is going to impact the bottom line in the second quarter of the current financial year. Hopefully, the market for WPP should rebound in the next 2 months or so.
Q: How has SIL performed in the post-Covid years? Did SIL try to change its product mix to settle with market conditions?
Fortunately market conditions were conducive post covid-19 and demand for WPP surged with the opening of schools/colleges and educational institutes apart from resumption of paper work in Governmental departments. This helped SIL surpass its previous performance levels. Regarding changes in product mix, we have recently launched agro based multipurpose paper product range such as Copier paper.
Q: Do you think that Agro residue-based WPP/copier keep a 'quality edge' on wood-based paper/copier?
Not exactly. Both agro-residue based and wood-based paper have their own characteristics and market segments. It would not be fair to comment that agro-residue has quality edge.
Q: The Indian Paper Manufacturers have exported a huge Quantity in of multifold various products in FY 2020 -21 and 21-22. Due to material exports, there was a shortage of material and the rates per tonne were skyrocketed more than double in just a year from 2021 - 22 to 2022 -23 and availability was an issue which hampered the Businesses of various Indian industries of Make in India project. How do you take this scenario? Do you think excess export of paper is not good for domestic pricing structure?
In my view, prices had jumped due to robust domestic demand post covid-19 and not because of higher exports. Moreover, prices had increased, almost doubled as mentioned by you, from the lowest levels (even below cost of production) which had been prevailing for long time during Covid-19 period.
As per the last available data, Exports of paper from India has been around 10% of the total production capacity and similarly imports of paper into India account for nearly 8.5% although it could be clustered over a few months which disturbs the demand & supply position during that period. Otherwise exports to the tune of 10% is quite fair and good for the industry and the country as well.
Q: What does one understand about Environmental, Social & Governance (ESG) in the Paper and Packaging industry? Why it is becoming more demanding nowadays? Is it a step towards the GREEN company?
Paper manufacturing of any kind is water intensive and traditionally it is known to be one of the polluting industry although things have changed considerably with modernisation, technological advancements, awareness and stricter pollution/environmental norms. Yes, ESG is becoming more demanding not only for the Paper and Packaging industry in particular but for all the industries in general. Water tables are going down across the country. Global warming is taking centre stage in any summit at international level which are projecting dire and imminent need for corrective steps. As such, Paper & packaging industry cannot afford to work in isolation. It has to adapt and adopt all possible measures to switch over to green manufacturing for sustainability.
Q: Packaging paper is gradually increasing its domain in the market. Most of the mills are planning to shift on packaging grades of paper. May we see SIL's move to install any new PM for packaging paper in future?
No. We have not given any thought to it as of now.
Q: Recently, CPPRI claimed that they had developed the technology to make paper from Rice Straw, and are soon to establish a demo pulp mill in north India. How do you take this development? Being an Agro waste-based manufacturer, Can rice straw pulp be a game changer option especially when raw material prices are on fire?
Some paper manufacturers used to mix rice straw as some component of total raw material about two decades ago when machine speeds were slow and paper quality consciousness was also moderate. Machine speeds have increased manifold and expectations for quality of paper have gone up over a period of time due to up gradation in printing technology and alternate options. So, it will be really interesting to see how things unfold with new technology for rice straw pulp.
Q: Recently, 'Unbleached Natural Shade Brown Copier' is introduced in the market made with 100% recycled pulp. Do you think it could be a revolutionary product or a threat to white Copiers? How long will this new trend survive?
No doubt unbleached natural shade brown copier will be preferable from environmental & health hazards point of view. However, in my view, end usage of both brown and white copier will vary and will have altogether different perceived value. I do not see any threat to white copier from brown copier paper in the near future. It seems difficult to predict the life span this trend in present scenario.
Q: Please SIL's expansion plan on any of paper machines (PM) and its planning to enhance the product portfolio and operational efficiencies.
There is no expansion plan at the moment. However, SIL is actively working to enhance its product portfolio within WPP category. At the same time, plans are afoot to increase machine speed, efficiencies, energy conservation and cost optimisations through up gradation in various areas of the plant.
Q: There is a sharp fall in Pulp prices globally, meaning there will be a fall in prices of paper, as well outside of India. If Paper at these lower prices come in to India, it will definitely affect domestic prices. This will have a significant impact on the profitability in the near term as well as medium term. Please shed some light on this scenario.
Of course, sharp fall in pulp prices globally will have its cascading effect on paper prices. Nevertheless, comparatively higher ocean freight, long lead time and other logistic costs will act as a barrier to bulk imports. As already said, paper prices in India have already come down by around 30% and we do not foresee further drop. Lean period for paper demand is expected to be over by October and New Education Policy (NEP) announced by the Govt of India is likely to be implemented before the next academic year which should further boost the demand and prices. First quarter of the current financial year was on expected lines but the second quarter is difficult. Overall, barring unforeseen circumstances, we hope to achieve reasonably good profitability for the current financial year.
Q: Indian Government is very much aggressive in using hydrogen in industrial processes. Hydrogen could make paper with a 66% reduction in total CO2 emissions. How do you see the energy future of India Paper Industry? What are SIL's initiatives to reduce energy consumption and optimise the production process in recent years?
I hardly see any paper manufacturing company in the country embarking upon such initiative so far. Indian Paper industry is making efforts to reduce CO2 emissions, conserve energy and going green for better sustainability. SIL has always been making efforts towards technology upgradation, automation, energy conservation and overall process optimisation.
Q: What is SIL 's prediction for the overall growth of the Indian Paper industry in the next five years, segment-wise?
Indian paper industry is well poised to grow at CAGR of 6.6 % until 2027 and will achieve better share in the global market. WPP is expected to continue to grow at 3-4% annually while packaging industry is expected to grow at CAGR 10%.

Web Title: "Lean period for paper demand is expected to be over by October, NEP will further boost the demand and prices" : Rajneesh Oswal, CMD, Shreyans Industries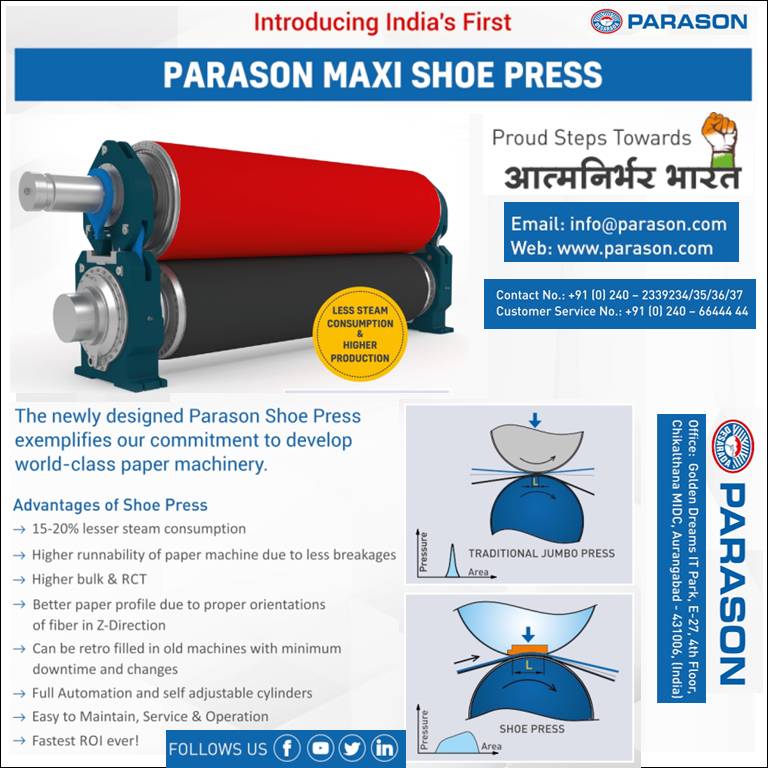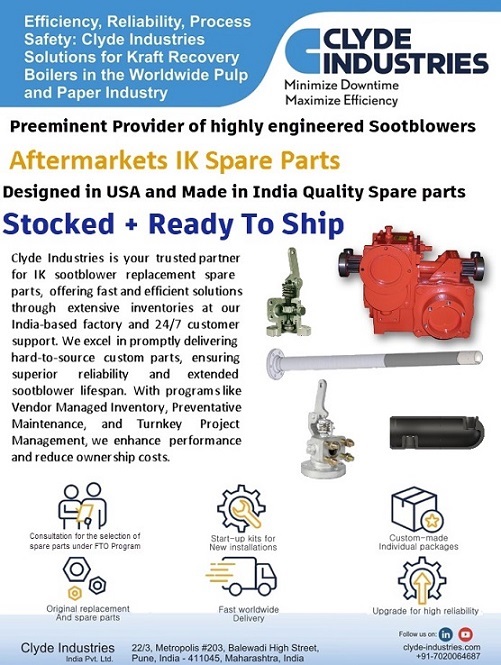 Next Stories