ICRA: pricing power environment to turn unfavourable for the Paper industry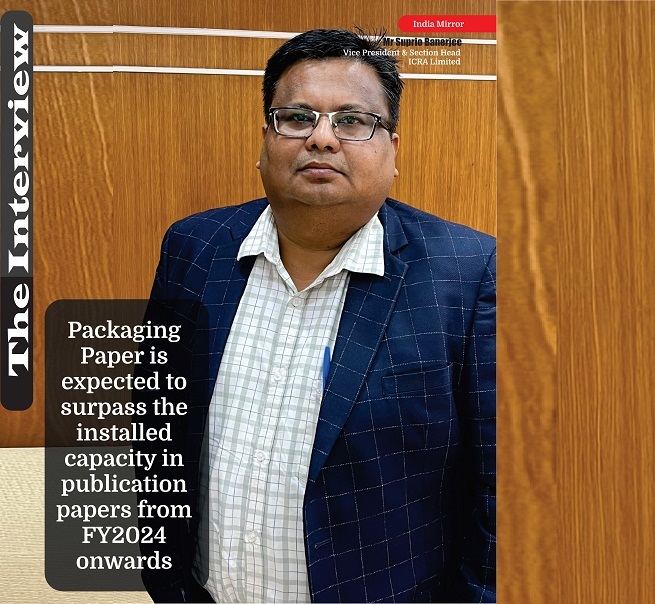 ICRA: pricing power environment to turn unfavourable for the Paper industry
-Packaging paper division is expected to surpass the installed capacity in publication papers from FY2024 onwards
-Any demand slowdown may have a much faster impact compared to a branded portfolio
ICRA Limited (formerly Investment Information and Credit Rating Agency of India Limited) was set up in 1991 by leading financial/investment institutions, commercial banks and financial services companies as an independent and professional investment Information and Credit Rating Agency.
Today, ICRA and its subsidiaries together form the ICRA Group of Companies (Group ICRA). ICRA is a Public Limited Company, with its shares listed on the Bombay Stock Exchange and the National Stock Exchange.
ICRA Provide information and guidance to institutional and individual investors/creditors; Enhance the ability of borrowers/issuers to access the money market and the capital market for tapping a larger volume of resources from a wider range of the investing public; Assist the regulators in promoting transparency in the financial markets; Provide intermediaries with a tool to improve efficiency in the funds raising process.
The Pulp and Paper Times recently touched ICRA's premises and met Mr Suprio Banerjee, Vice President & Sector Head, ICRA. We discussed various insights into the Indian paper industry, demand growth, digitalisation impact, future demand prospects, and dominance of packaging paper over publishing paper. Here are Mr Banerjee's views:
February 2023 | The Pulp and Paper Times
Q: Corona Pandemic has dynamically changed the paper industry, causing an irregularity in wastepaper supply as well as pricing, price up and down of finished Paper, i.e. kraft & Duplex, and upward logistics and inputs costs. How do you evaluate the overall present state of the Indian paper industry (Pre-covid and Post-Covid)?
Like most other sectors, Covid-19pandemic had caused lot of disruptions to the domestic paper industry on multiple grounds. With lockdown restrictions, supply of wastepaper (raw material) was curtailed which gradually pushed up its prices. Pulp prices also went up due to supply side issues. Apart from the raw materials, energy (largely related to coal as a fuel)and chemical costs also witnessed a sharp jump, leading to overall rise in production costs. On the demand front, writing and printing segment saw sharp contraction in demand due to lower consumption amidst closure of educational institutions, office establishments etc. However, demand for packaging paper was strong driven by increase in e-commerce transactions during this period.
Post Covid, paper industry witnessed robust recovery amidst improving economic activities. Specifically writing and printing segment rebounded post the opening up of schools and offices. Amidst favourable demand and inflation in raw material and power costs, the sales realization for writing/printing as well as kraft/duplex papers touched record high levels in the current fiscal. Collectively, these resulting in better operating leverage and earnings for organised paper players in the country. Given the stable demand environment, we expect the prospects for domestic paper industry to remain favourable over the near to medium term.
Q: The paper has already become obsolete in many ways. and transmission and storage of information are done with digital technology. Writing and Printing paper production is gradually decreasing. What is your long-term view over WPP demand and its usage, what growth rate do you assume in this decade?
Over 60% of WPP demand originates from education segment in India and this segment shall support WPP needs over the near to medium term. However, over long-term the demand shall witness contraction mainly due to the impact of digitization with increasing preference for digital technology for data storage, online education, work from home preferences, etc. Nevertheless, the digitization impact on WPP segment shall be slow and gradual in India (compared to other developing and developed nations) considering the diverse population and a large rural base.
Q: Excess Capacity and drop in Exports have made the paper market sluggish. Many new capacities are coming up in Gujarat and south India, which may further impact the market; how do you take this excess capacity issue? And what should be the Indian paper industry's efforts to increase the Export?
Capacity additions announcements in the paper industry are largely visible in the segments associated with packaging paper in the last two years, given the healthy and growing demand for quality packaging of FMCG products, textiles, pharmaceuticals, e-commerce, etc. If the pace of demand growth does not hold at current levels, we expect the pricing power environment to turn unfavourable for the industry. In this context, the players can leverage towards exports and reach newer geographies/markets.
Q: The ban imposed by Government on Single Use Plastic (SUP) last year created euphoria in the paper industry, but demand did not increase as it was expected. The total paper requirement for paper straws required in the country is about 20000 MT only, which is minuscule given the paper industry's production capacity. What are your views on Ban on SUP and its impact on the paper industry?
Single use plastic ban is largely going to benefit the packaging paper sector, especially the Kraft paper manufacturers. However, the replacement volume remains to be seen, given the use of single use plastic is largely concentrated to the few industries.
Q: Newsprint and writing & printing papers segments are gradually losing out to the packaging paper segment, Can we assume a massive shift of capacities to packaging paper or more capex plans in years to come? Please describe.
The paper industry can be broadly classified into a) Newsprint (NP), b) Printing & Writing (PWP) and c) Packaging paper (PP), with current capacity of packaging paper at around 45-47%, vis-a-vis NP along with PWP at around 53-55% for the industry on a consolidated basis. The demand is seeing a paradigm shift towards Packaging Paper segment with growing packaging needs from e-commerce, food and food products, FMCG and pharmaceutical sectors. Post the commissioning of announced capex for packaging paper from next year onwards, the installed capacity in packaging paper division is expected to be largely at par with publication capacity in FY2023 and surpass the installed capacity in publication papers from FY2024 onwards. Subsequently, the multiple of installed non-packaging paper capacity (NP+PWP) to packaging paper capacity has on a steady declining trend and is expected to be lower than 1.0X in FY2024.
Q: Raw material security is one of the most important aspects of Kraft Paper industry. Day by day, raw materials security has become a matter of concern because of instability in price and supply. India's domestic wastepaper recovery rate is far below that of EU and US. Don't you think this situation may impact the growth prospect of kraft paper?
This obviously remains a structural level concern for the kraft paper segment, which also led to production related challenges during the Covid period, wherein the imports of wastepaper were hit. The same also led to a sharp rise in wastepaper prices, and in turn final kraft paper prices too. The long-term growth prospects will obviously hinge on sustainable and uninterrupted supply of wastepaper for the kraft paper segment in particular.
Q: Many financial organizations have predicted that there could be a recession in 2023, which may impact the packaging needs; already waste & finished paper prices are touching to the bottom line. How would you evaluate this situation? May the recession prove to be challenging for small and medium paper mills?
Any kind of demand slowdown will be detrimental for the industry as a whole, more so for the players who have lower bargaining power in terms of their product and brand standings. Moreover, for products like kraft paper, which is far more commoditized compared to a premium writing and printing segment, any demand slowdown may have a much faster impact compared to a branded portfolio.
Q8: What is ICRA's prediction for the overall growth of the Indian Paper industry in the next five years, segment-wise?
Over the longer term, the overall growth of Indian paper industry is expected to remain healthy on the back of increase in economic activity, coupled with increasing penetration of specialised and conventional packaging in sectors like FMCG, healthcare, e-commerce, pharmaceuticals, and consumer industries. With opening of economic activities post covid pandemic, the demand for writing and printing paper has remained strong with reopening of schools and other educational institutes, offices etc. Hence, in the near term the paper industry is expected to report healthy growth, driven largely by writing and printing paper segment. However, the long-term outlook on PWP segment is expected to moderate with emerging trends such as online and digital transformation in the market, which will taper the overall growth for the industry.
Q9. What other market-based research does ICRA conduct?
Our analysis of the industry is based on discussions with industry players, dealers, and other relevant stakeholders.
Q10: Any other suggestions or comments for Indian paper mills?
The paper companies depend largely on imports for wastepaper requirements. Because of this issue, the paper sector domestically suffers from exchange rate fluctuations in terms of cost as well as issues of uninterrupted supply. The same was also reflected during Covid times, wherein supply was an issue, and there onwards, due to high logistics costs, the wastepaper prices also went up. Developing the market for wastepaper locally will give the right impetus for the sector, both in terms of cost management as well as supply side issues.
The paper manufacturing industry is also exposed to environmental risks of air, water, and land pollution, as discarded paper and paperboard make up a sizeable portion of solid municipal waste in landfills. Paper companies should adopt various measures and technologies to reduce waste and emission levels. Also, water treatment is extremely important because the pulping and bleaching process can release complex organic and inorganic pollutants which need to be properly treated. And adequate measures should be taken by the companies to reduce water consumption in the mills.
Paper companies should also focus on innovation and research and development consistently to improve the efficiency of the machines and adopting advanced technologies to remain competitive in the market. This will also help in optimizing their operations and impact their business positively.
Web Title: ICRA: pricing power environment to turn unfavourable for the Paper industry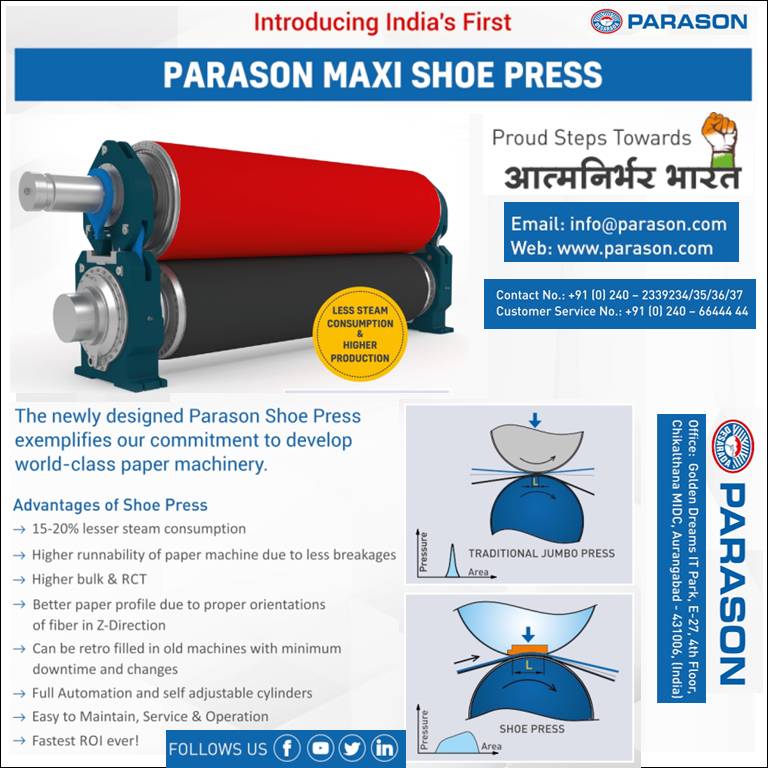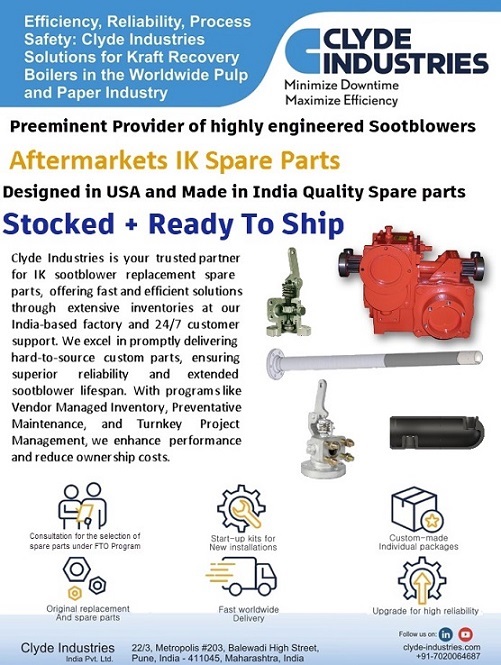 Next Stories