Continuously evolving, Yash Pakka to add PM4 for food packaging, overseas expansion of 400 TPD bagasse pulp plant and finding new ways to deliver products and services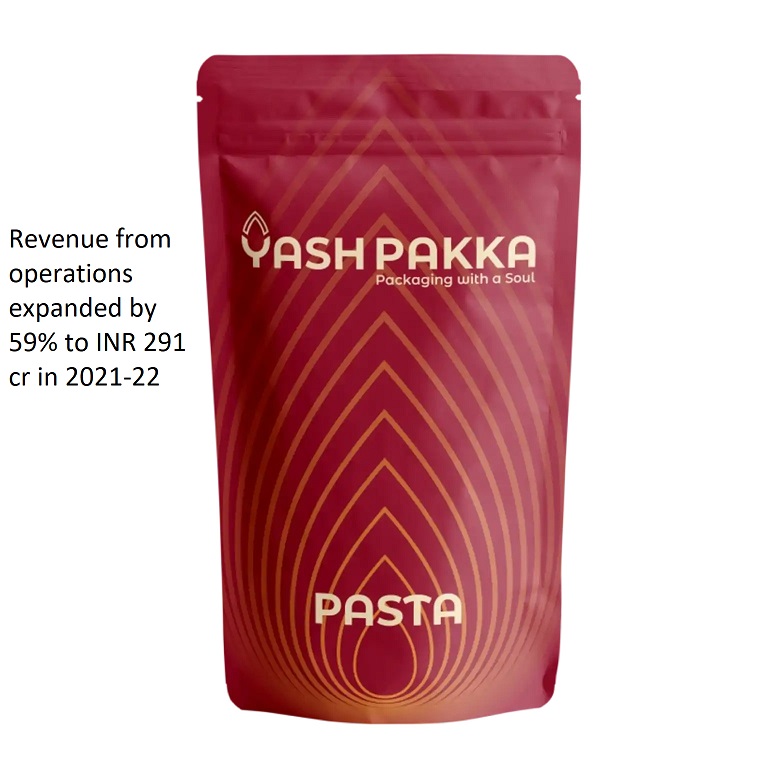 Continuously evolving, Yash Pakka to add PM4 for food packaging, overseas expansion of 400 TPD bagasse pulp plant and finding new ways to deliver products and services
- Revenue from operations expanded by 59% to INR 291 cr in 2021-22
- YPL will grow the Ayodhya unit to increase pulping capacity by 75% and enabling PM3 to provide more value-added products for flexible packaging
Ayodhya | The Pulp and Paper Times:
As part of the global bio-economy, Yash Pakka Limited (YPL) is a leading provider of renewable and regenerative products in packaging and paper. Sustainability and responsible business practices are deeply embedded in YPL strategy, and its low-carbon, fiber-based products are renewable and recyclable.
Looking at performance in the accounting year 2021-22, Yash Pakka showed resolve, adaptability, agility and resilience. The company delivered satisfactory financial performance across its key business areas, overcoming macroeconomic turbulence and supply chain disturbances. The company's revenue from operations increased by 58.49% YoY and net profit expanded by 128.46% YoY. These are results to be proud of and a testimony of continuous improvements and strategic progress.
The accounting year under review was an important one for Yash Pakka, as YPL focused on securing both revenue expansion as well as profitability transformation. Revenue from operations expanded by 59% to INR 291 cr in 2021-22, profitability jumped by a sharp 128% to INR 38.20 cr.
Intimating about the YPL's way of working and achievements in FY 21-22, Mr Pradeep Dhobale Chairman says, internally, we found new ways of working to deliver products and services at the same high standard and pace as before the pandemic. By investing in a deep culture of skilling, learning and enablement, we created a more agile business with enhanced customer service excellence. An increased demand for eco-friendly products, the untiring efforts of our people, our resilient business model and strategic steer by the leadership together supported our strong performance. I believe our achievements in 2021-22 provide a stellar example of a company striving towards a common goal of sustainable growth at scale.
"Sustainability is a key part of our business and value creation agenda as we focus on responsible, regenerative packaging through our products to create degrees of separation or competitive differentiation. We are working for CHUK to be synonymous with sustainable packaging. Though we have covered a long way, we still have a long way to go and I am confident that the kind of team, resources and plans we have we will achieve progress faster than ever". he said.
Mr Jagdeep Hira Managing Director at YPL said in the annual report that on the paper side, team efforts showed when we achieved significant improvement in quality, while also surpassing installed capacity. Maintaining quality at enhanced production is an achievement we should be proud of and we will continue to ensure consistency in these domains. As far as the molded business is concerned, overall equipment effectiveness (OEE) expanded by 15%, even as we collectively created targets to achieve new benchmarks in the future. Our molded division is a relatively new segment, and the idea is to not focus on what the industry has been about, but what is possible. We are having a disruptive view and our efforts are directed towards unlocking value through innovation.
Yash Pakka established a subsidiary company in the United States, Pakka Inc. The reasons are multifold, including access to cutting edge global talent and exposure to a global environment and international trends which will boost its innovation engine. Over the long-term, the company plan to establish a manufacturing facility closer to the US, thus opening up new potentials and possibilities.
"We successfully closed the amalgamation between Yash Pakka Ltd and Yash Compostables Ltd, which will unlock synergy in terms of distribution, resources through common pool of critical talent and key services, and technology in terms of deep knowledge around pulp-based products," Mr Dhobale said.
On scaling up of YPL's business in future, Mr Ved Krishna, Vice Chairman of Yash Pakka Limited informed the shareholders that In India, the team is focused on the effective execution of Project Jagriti in Ayodhya that will see our pulp, paper and molded products capacity increasing significantly over the future, and putting into place a robust outsourcing model that can help sustainably scale up our business under CHUK. We have finalised our partners for this endeavour and will keep a close surveillance on the way the model is working.
He further added, "At Yash Pakka, we are focused on the domains of food carry, service and packaging and continue to work towards evolving strong solutions in all the three domains. The key for impact is scale and that will be the focus in the coming times. We will grow the Ayodhya unit to increase pulping capacity by 75% and enabling PM3 to provide more value-added products for flexible packaging. We will also add PM4 for food packaging and flexible film-based grades. Pulp drying would be added to enable transportation of pulp further for molded fibre production."
Mr Krishna disclosed about YPL's overseas expansion, and said, "As informed earlier about our international strategy, we have begun to finalise our overseas expansion and will be closing in on a site for a minimum 400 TPD bagasse pulp plant for producing similar products as manufactured in India. We are also investing towards building more collaborations through rolling out our GCA hub platform and building partnerships in the innovations domain for better bio-materials research. We thus have significant targets for 2025 and the team is working tirelessly to materialise the goals and objectives.
"The other highlight was finalising the path ahead and going full steam towards our purpose and vision of ensuring impact of sustainability at scale, and the third was initialising our international growth plans that include setting up a subsidiary company in the US that will create a platform for achieving breakthrough in innovation and research. With a print in the US, it will also give us access to global trends that could be monetised for long-term business opportunities. In this regard we are finalising our next factory location closer to the US and tying up investment." Mr Ved says.
YPL have partnered with AFRY to engage in basic site engineering, Mr Hira added, "We are also focused to serve our esteemed customers with upgraded quality products by making capex in new technologies. Thus, the focus always remains on holding the perspective of our customers and engaging in innovation to serve this purpose. On the expansion side, we are trying to stretch out to the fullest on our existing location in Ayodhya and are planning to invest for enhanced productivity and have partnered with AFRY to engage in basic site engineering."
On raw material, Mr. Hira says, "while the industry witnessed raw material input cost inflation to the tune of 10-20% and fuel cost increment of almost 10-15%, at Yash Pakka, we were able to achieve only a marginal variable cost increase vis-a-vis last year of around 3.5%. This is a credible achievement and exhibits our cost discipline and focus on efficiency and productivity. With commodity prices coming down via action of central banks, we believe we will sit favourably in this regard and will continue to focus on cost reductions wherever feasible"
"Our primary focus will continue to be on large key customers, predominantly the largest food service operators in the country. CHUK is working with a number of customers outside of India too. Furthermore, to activate global launch, as a first step, CHUK is looking to launch in the Middle East market towards the end of the current fiscal year" Mr Hira said.
To meet the ever-increasing demand for CHUK products, YPL is launching a new capacity acquisition program via outsourcing. CHUK is working with multiple manufacturing partners around the country to develop a win-win outsourced manufacturing model. Outsourced manufacturing works not only for our bagasse range, but also for the newly-planned ancillary products. Thus, a range of new products to complement and complete the full gamut of our offering is being developed, including delivery containers and delivery meal trays. Therefore in FY2022-23, YPL is expected to launch of quite a few new products.
YPL's business
Our manufacturing facility is located in Ayodhya, Uttar Pradesh, a prominent sugarcane belt. Our integrated operations comprise:
- 130-TPD pulp mill that produces both bleached and unbleached pulp grades
- 3 paper machines of combined 39,100 MTPA capacity
- 2 power plants that include extraction-cum condensing turbines and rice husk-based FBC boilers
- 145-MT chemical recovery plant w 14-TPD molded products capacity across 11 lines.

Web Title: Continuously evolving, Yash Pakka to add PM4 for food packaging, overseas expansion of 400 TPD bagasse pulp plant and finding new ways to deliver products and services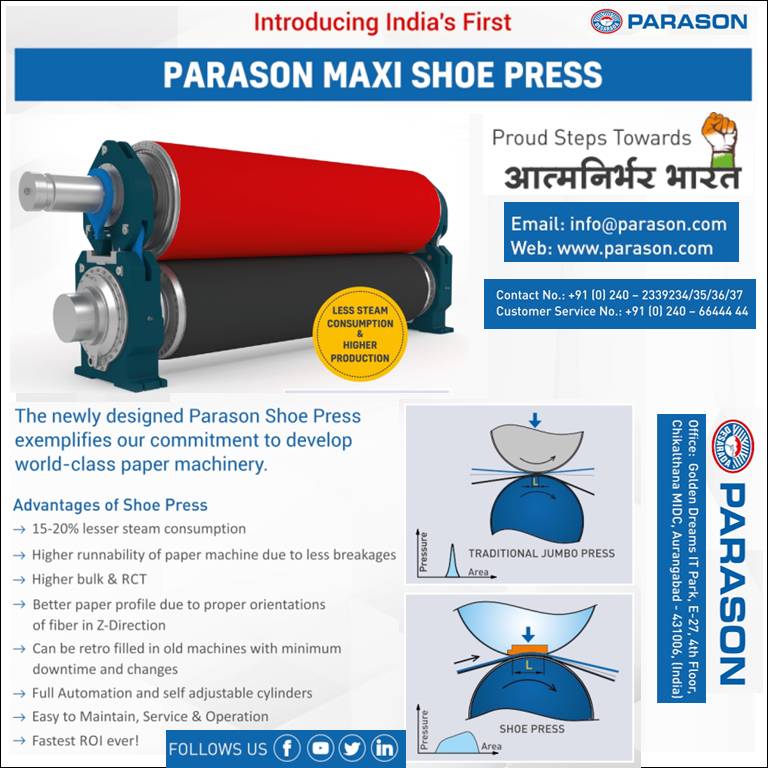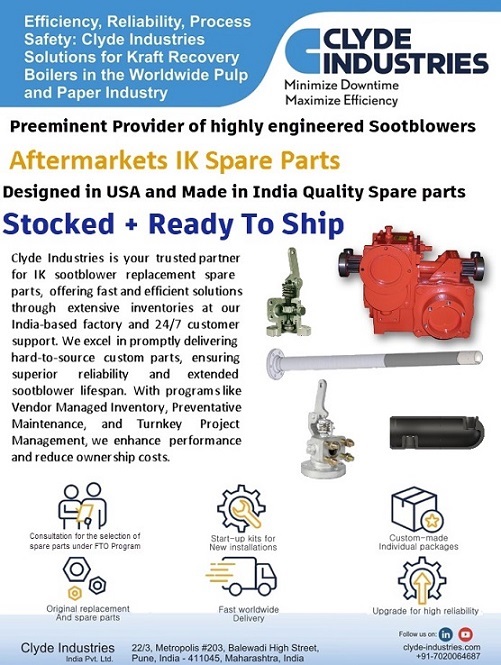 Next Stories