CEPI: Use of agricultural residues in Europe is now making a comeback as a new development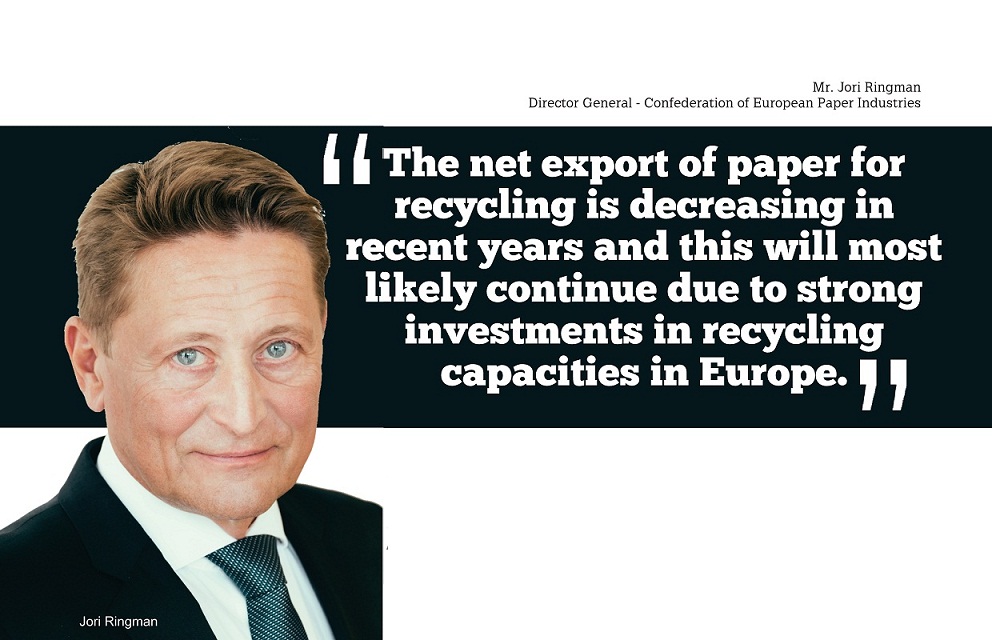 CEPI: Use of agricultural residues in Europe is now making a comeback as a new development
-In the EU, we also observe an appetite for new, more climate-friendly products, which can substitute plastics for instance.
-The net export of paper for recycling is decreasing in recent years and this will most likely continue due to strong investments in recycling capacities in Europe.
Recently, The Pulp and Paper Times got the opportunity to interact with Mr. Jori Ringman - Director General - Confederation of European Paper Industries over the various issue related to recovered paper export, Anti Dumping Duty, E-commerce boom in Europe, etc. Here is his full Interview:
Q: Please provide a brief introduction of CEPI for our readers.
Cepi is the leadingassociation representing the European pulp and paper industry. Cepi's members are some 18 national associations, through which Cepi gathers 495 companies operating 895 mills across Europe, and directly employing more than 180,000 people. Two-thirds of the companies are small and medium size (SME), meaning that they have less than 250 employees. These companies cover a wide range of renewable and recyclable wood-based fibre solutions: from packaging to textile, hygiene and tissue products, printing and graphic papers as well as specialty papers, but also bio-chemicals for food and pharmaceuticals, bio-composites and bioenergy.
Q: Please describe CEPI's main objectives & issues in short?
Cepi has four standing committees, which take long-term strategic perspectives on the issues affecting the industry. These are the Environment and Safety, Climate Change and Energy, Forest, and Recycling committees, under which a number of ad-hoc issue groups operate.
All of these are involved today in the workings of the European Commission flagship initiative the "European Green Deal", launched in 2020 and still being rolled-out. Its overarching ambition is to make the EU climate neutral by 2050. The speed and ambition of the legislative proposals under the Green Deal is both anarduous challenge and a fantastic opportunity to Europe's pulp and paper industry and our global competitiveness.
Q: Covid Pandemic has changed the Paper Industry drastically in terms of Price of finished paper and consumption, What is CEPI's assessment on this present scenario of the paper industry in Europe and worldwide?
Unfortunately, we cannot comment on pricing aspects.But like other sectors, European paper and board is bouncing back from the economic downturn brought about by the pandemic. New trends on how we use paper, first exacerbated by Covid-19, are now looking like more profound changes in our consumption patterns, changes that are here to stay. Another important movement is the switch towards more-climate friendly products, such as the ones provided by our industry. This has caused the industry to adjust its production, discontinuing lines and investing to adapt to the change. The current tensions on EU energy markets have made it more challenging for European companies to remain competitive globally.
Q: Recently, The government of India has come up with norms for the enforcement of 'rules of origin' provisions for allowing the preferential rate of customs duties on the products imported under free trade agreements. The primary aim of such a policy is to stop the unauthorized benefits and claims of Customs benefits under the respective Trade Agreements like FTA / PTA / CECA / CEPA). How does CEPI evaluate this kind of imposition, particularly for paper trade? Will this rule be beneficial to the paper industry?
While we cannot comment on the situation in India, Cepi supports trade policy that is backed by ambitious Free-Trade Agreements (FTAs) and which allows for improved market access for all parties involved, creating a level-playing field. Cepi supports the relaunch of negotiations for an ambitious EU-India Free-Trade agreement.
Q: With the ban on imported waste paper in China effective from January 2021, how has the world been affected by this major shift? Especially in a country where the rate of recovery is low like India, what will be the major impact?
Cepi being a European-based organization, it is difficult for us to comment on questions related to worldwide economic trends, or how the ban has impacted India.But in the context of the waste import restrictions by China, the European paper industry is set to recycle even more in Europe, as it makes additional investments in paper recycling capacities.
Significant changes in trade flows can be observed globally. Before the Chinese ban, a substantial share of the recovered paper collected in the United States and Europe used to be exported to China. The recovered paper there was used to manufacture mainly packaging paper and board to pack the products delivered by China to the American and European markets. In recent months, American and European flows of recovered paper, formerly destined to China, have been redirected towards India and Southeast Asia where they are transformed into corrugated board or recycled pulp, before being re-exported to China.
Q: Please show some light on Indian and European paper trade figures like Export and Import of Paper?
The main market between India and Europe is of course paper for recycling, which represented 1.3 million tonnes in 2021. Indian imports of paper for recycling have increased by 235% between before the Chinese waste import restrictions in 2017, and 2021. The EU accounts for 19% of total Indian imports, with an 11% decrease over the past year. To put this into perspective, the figure for imports of paper for recycling from the United States is 40% - it has increased by 52% between 2020 and 2021, 13% of imported paper for recycling is coming from the United Kingdom, and a further 7% of it is coming to India from Canada.
Q: The E-commerce boom in Europe fuelled the growth of packaging paper within CEPI countries; the production of packaging grades is estimated to have increased by 7.1% compared to 2020 reaching the highest level ever. How long does CEPI think this E-commerce boom will stay, and will the growth in packaging paper lead to a fibre scarcity for the developing country?
Covid-19 has caused a dramatic surge in online shopping, which has been a boon for producers of paper and board packaging. Cepi cannot provide forecasts on future trends, but it is clear that certain tendencies are now subsisting in spite of the pandemic slowing down in Europe. Interestingly,E-commerce is not the only driver of change in consumer habits. In the EU, we also observe an appetite for new, more climate-friendly products, which can substitute plastics for instance.
Q: The EU Commission has issued the proposal for the new legislation on the export of waste (Proposal for a regulation by the European Parliament and the Council on shipments of waste), which will be also ruling the exports of waste paper. This will mean that European paper mills will have access to unlimited supplies of very cheap waste paper. How will this regulation be going to affect the paper mill outside and Recovered paper recyclers inside Europe?
Unfortunately, paper has become neither unlimited, nor cheap. To give you some background,our industry in Europe is already recycling a high amount of paper, and this amount has been growing constantly since 2000.So, the increase in use of waste paper is predating the EU regulation that you are mentioning.Today, out of 57 million tonnes of waste papercollected in Europe, 50 million are recycled by the European paper industry.The net export of paper for recycling is decreasing in recent years and this will most likely continue due to strong investments in recycling capacities in Europe.
In parallel to this trend, there have been a development you will be more familiar with, many non-European countries have put in place limitations on imports, as they want to support local collection and increase the quality of the raw material. These limitations actually have a stronger impact on the trade balance than the EU's waste shipments regulation.
Another piece of EU legislation, theCircular Economy Action Plan correctly identifies the facilitation of EU internal shipments of waste and secondary raw materials, as well as the convergence of waste collection systems as priorities. For the recycling system to work efficiently, European paper material must be separately collected and reach the mills with the right level of quality.In the past, poor quality from coming led collections found its way into the export, so it is very positive that non-European countries are also increasing their quality requirements. The waste shipment regulation, which you mention in your question, will further support thisThe waste shipment regulation, which you mention in your question, will further support this,in line with the international Basel convention.
Q: What new trends in Paper manufacturing does CEPI see in European Paper Mills which will change the dynamic of paper mill operations worldwide in the current scenario?
We cannot pronounce ourselves on worldwide dynamics, nor make any projections. But a number of technologies will be available to our sector at large scale by 2030, a milestone in the EU's decarbonisation efforts as, by this date, the EU expects to have achieved an emissions reduction target of net 55 % compared to 1990 levels. These technologies will not only allow us to advance towards carbon net neutrality, but also to be even more efficient in our use of water, energy and most importantly raw materials. They will also help, not just Europe, but the global pulp and paper industry to be a worldwide champion in circular, low-carbon bioeconomy.
Q: How does CEPI work upon the common misconception about the paper industry like 'Save Paper, Save Tree' 'Go Digital Go Paperless'? What are CEPI's initiatives to remove the myth from people's minds?
From a global perspective, it is important to focus on the most important causes of deforestation and a recent international assessment by the Food and Agriculture Organisation of the United Nations (FAO) has showed that the role of agriculture in global deforestation is even more detrimental than previously thought. It presently accounts for 90% of global deforestation.
In Europe, forests are growing in surface and volume due to stringent national legislation,and alsoas a result of theeconomic incentive for forest owners to support their growth and manage forests sustainably.This is one of the reasons why Cepi fully supports the European Commission's initiative to plant three billion additional trees in the EU by 2030. We believe this is the right strategy: forests need our help to grow, rather than their use being limited.In the paper industry, we practice sustainability, an old forestry term, coined over 300 years ago in Europe, and now widely used.
We should also mention here the GreenSource initiative, a European-wide effort to explain how the forest-fibre industries make the 2050 climate neutrality target a reality, and the role played by forests and forest products in helping to meet this target.
Q: Most of the countries are working towards the removal of Single-use plastic in coming years, Barrier resistance and biodegradable coating can play an important role, please throw some light on Research and Development in CEPI's member paper mills, being carried on to replace Single-Use Plastic.
Although our products are undeniably contributing towards the substitution of fossil-based materials, we are not fundamentally against single-use products which play an important role when it comes to hygiene solutions for example.
Barriers and coatings are applied when certain functionalities need to be achieved by the final product. Novel functional film and coating materials are indeed in the works, as part of a set of technologies that could be widely available to our industry by 2030.
Q: In developing countries, the rising price of recovered paper is leading to diverting paper mills to use Agro residuals such as wheat straw, Baggase etc. What is the status of made from Agro Residuals in Europe? How much paper does CEPI's member paper mills manufacture using Agro waste? How would you differentiate and evaluate this paper from plantation fiber-made paper on quality and printability parameters?
The use of agricultural residues in Europe was a forgotten practice but is now making a comeback as a new development. New technologies implemented in some mills enable the industry to utilise alternative feedstocks like agricultural residues, but also recycled textiles, without the heavy pollution that was related to such products in the past.
But processing agricultural residues still entails high logistic costs and their availability is limited and seasonal, restricting their uptake in large scale processes. At the same time, Europe has large, sustainably managed forest and they will remain our main source of fresh fibres for the foreseeable future.
Q: In the context of Russia-Ukraine clash and followed by various bans (imports and exports) by many countries, the energy prices are touching new heights in Europe & USA. As the paper industries are highly energy-intensive, What impact does CEPI see on Paper Production and Paper Selling by European Paper Mills?
The consumption of pulp and paper products does not seem to be affected by the war yet. But how long before consumption starts contracting as a result of chain of events brought about by the war is an open question. Many paper mills across Europe have already been forced to stop production or to introduce downtimes,and we have recently called on the EU Commission to offer temporary relief measures to our sector on the basis ofits essential role in Europe's economy.
On energy, Cepi has identified already for some time the sourcing of affordable clean energy as a priority to meet the objectives of the EU Green Deal. From a climate perspective, transitioning to a new energy system had already been an emergency even before the war in Ukraine. Right now, making sure that companies in our sector continue operating and remain competitive in the global market is of key importance. At the same time, Cepi calls on EU policymakers to create the appropriate regularly toolbox for the energy transition and empower companies to invest in clean energy. When considering the negotiations ongoing on the legislative packages related to the EU Green Deal, we see that some provisions undermine the role of local and renewable energy sources, such as bioenergy.

Web Title: CEPI: Use of agricultural residues in Europe is now making a comeback as a new development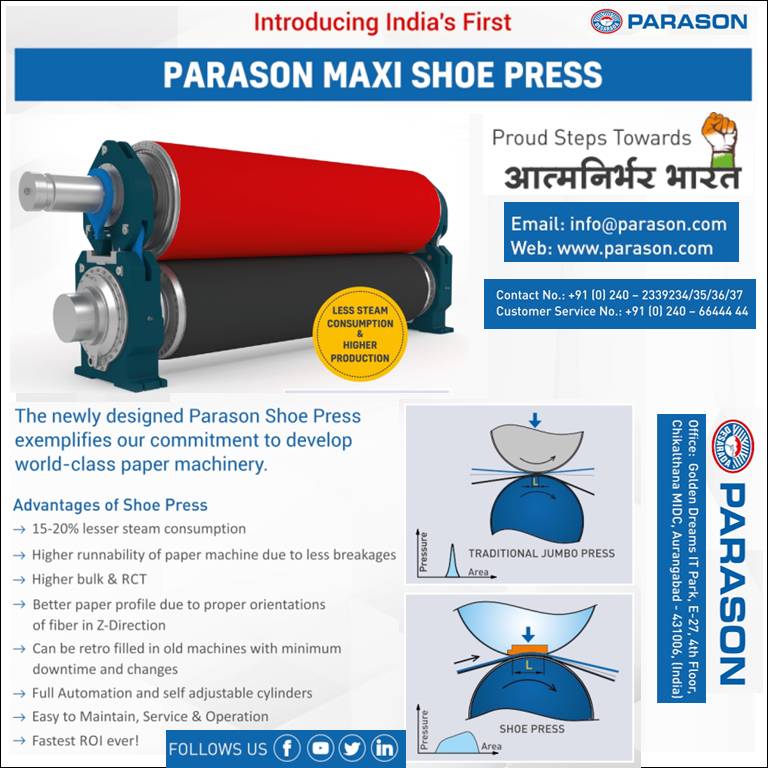 More News From international
Next Stories