ITC-PSPD delivered robust performance in the Specialty Papers segment by product mix enrichment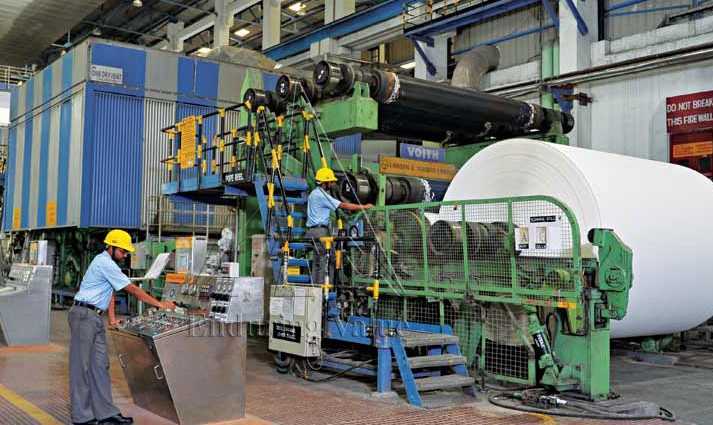 ITC-PSPD delivered robust performance in the Specialty Papers segment by product mix enrichment
- Strong growth of 36% in Revenue in FY 21-22
- Investments in pulp import substitution, cost-competitive fibre chain, sharper focus on operational efficiency leveraging data analytics and Industry 4.0 enabled margin expansion despite escalation in key input prices.
2022 | The Pulp and Paper Times:
After a sharp decline in FY 2020-21, global demand for Paper & Paperboards witnessed a growth of about 10% in FY 2021-22. Paperboards segment is estimated to have grown faster at about 11-13% on the back of robust demand from end-user industry segments. Higher global demand for virgin grades and continued supply chain disruptions led to international fibre prices remaining elevated throughout the year. Writing & Printing Paper, which had degrown significantly in FY 2020-21, grew at a moderate pace of 5-7% with educational institutions and offices continuing to remain partially closed in the course of the year. The Indian industry witnessed broad based uptick in demand across most end-user segments driven by Consumer Goods, Pharmaceuticals, Food Service and e-Commerce.
ITC's Paperboards and Packaging Businesses are moving to the ITC Next horizon by scaling up the Value-added Products portfolio, enabling pulp import substitution for superior products, and pioneering innovative fibre-based solutions, leveraging its existing proprietary R&D platforms and global collaborations. The Paperboards and Specialty Papers Business offers next generation sustainable packaging solutions, including recyclable paperboards and papers with barrier properties, under the 'Filo' and 'Omega' series to substitute single use plastics.
Despite significant operational challenges due to the pandemic and continued global supply chain disruptions, ITC's Paperboards and Packaging Businesses achieved record volumes and higher realisations during FY 2021-22. Structural interventions across the value chain including, inter alia, developing high yielding clones, augmenting value added paperboard & in-house pulp manufacturing capacity and creating superior distribution infrastructure, product & process innovation, digital interventions including Industry 4.0 continue to provide the Business sustainable competitive advantage.
The Paperboards, Paper & Packaging Segment recorded strong growth of 36.0% in Segment Revenue and 54.7% in Segment Results. This was aided by demand revival across most end-user segments, higher realisations, product mix enrichment and exports. Robust margin expansion of appx. 270 bps was achieved leveraging the integrated nature of the business model, Industry 4.0 and other digital interventions.
ITC-PSPD is actively engaged in developing and promoting suitable paper and paperboard substrates to replace single-use plastics. 'FiloPack' and 'FiloServe' under the 'Filo' series are certified as '100% Recyclable' by Central Pulp & Paper Research Institute (CPPRI), while 'OmegaBev' and 'OmegaBarr' under the 'Omega' series are certified as 'Bio-degradable under compostable environment' by Central Institute of Petrochemicals Engineering & Technology (CIPET). These products, which serve as alternatives to plastic-coated containers, cups and other deep freeze applications, registered robust growth during the year and continue to gain popularity with increasing awareness levels amongst customers.
The portfolio was also augmented with the launch of a new range of Specialty Papers for e-ommerce/ courier envelopes and paper tapes. ITC-PSPD is stepping up investments in this fast-evolving space which holds immense growth potential supported by the R&D capabilities of your Company's Life Sciences and Technology Centre and through external collaborations with global specialists. To rapidly scale up its future-ready product portfolio through cutting-edge innovation, the Business has also set up a dedicated 'Nextgen Cell' which is actively engaged in building a robust innovation pipeline.
During the year, ITC-PSPD delivered robust performance in the Specialty Papers segment. Market standing stood enhanced during the year driven by product mix enrichment, diversification of the customer base and launch of innovative products such as anti-viral and anti-bacterial Specialty Paper - 'NPP Pro' for use in pharmaceutical leaflets and packaging applications. The domestic industry continues to remain under pressure on account of cheap imports from China. The recent introduction of anti-dumping duty on Décor paper is expected to increase 'Make in India' opportunities and enable import substitution.
ITC-PSPD continues to make structural interventions to reduce dependence on imported pulp, enabling substantial reduction in operating costs. Significant increase in in-house pulp production was achieved through strategic interventions, Industry 4.0 initiatives and improved wood mix. Capacity utilisation of Bleached Chemical Thermo Mechanical Pulp mill (BCTMP) at the Bhadrachalam unit touched a record high during the year. Initiatives such as bund plantation and scaling up plantations in new catchment areas in Odisha and Chhattisgarh have enabled procurement of more than 10,000 MT of wood from these areas, with further potential for increasing cost-effective access to fibre in the future.
In addition, ITC-PSPD recycled around 1.1 lakh tonnes of waste paper during the year, thereby sustaining its positive solid waste recycling footprint.
"In the current year, the Company has achieved over 99% waste recycling. In addition, the Paperboards & Specialty Papers Business recycled over 85,000 tonnes of externally sourced post-consumer waste paper, creating yet another positive environmental footprint. Going beyond the requirements of Plastic Waste Management Rules, 2016, we are endeavouring to ensure that, over the next decade, 100% of packaging is reusable, recyclable or compostable/biodegradable," said Mr Sanjiv Puri, Chairman & Managing Director-ITC Limited, in the Sustainability & Integrated Report 2022
ITC's Paperboards Business adopts Cutting-edge Industry 4.0 Technologies to Drive Sustainability & Competitiveness
In line with ITC's focus on accelerating digitalisation across businesses, ITC PSPD (Paperboards & Specialty Papers Business), the leading manufacturer of Packaging and Graphic Boards in South Asia, is implementing several transformative projects leveraging Industry 4.0 technologies across key business areas, to enhance productivity, reduce carbon footprint, achieve strategic cost efficiencies and superior product performance. Some of the major projects undertaken by ITC PSPD as part of its Digital Transformation Programme include – process debottlenecking and throughput improvement for productivity and Overall Equipment Effectiveness (OEE) improvement, product quality superiority for process capability improvement and reduction in defects, resource optimisation, and imports substitution for variable cost reduction, and sustainable agricultural practices for improved field productivity and reduced carbon footprint.

Web Title: ITC-PSPD delivered robust performance in the Specialty Papers segment by product mix enrichment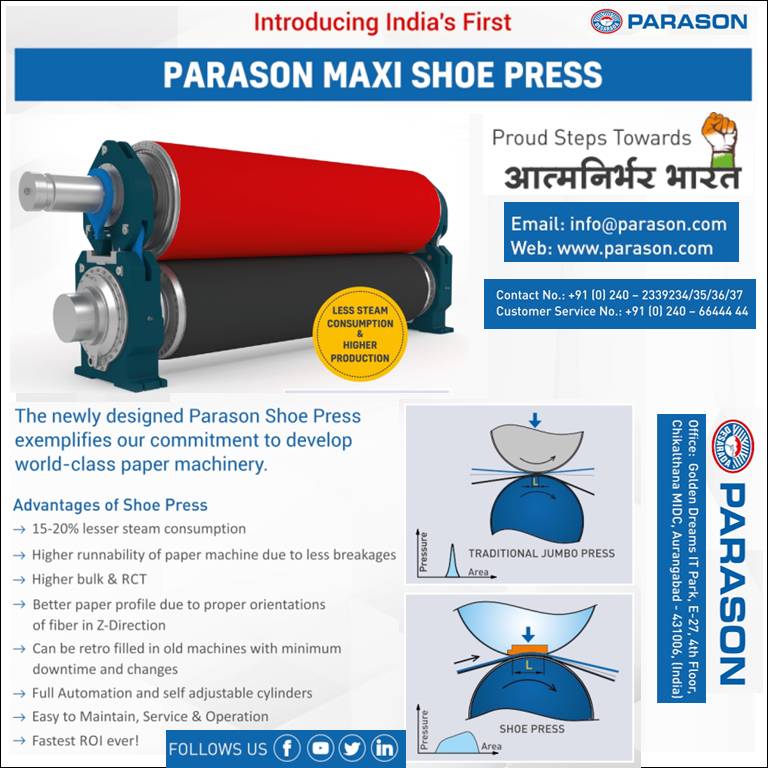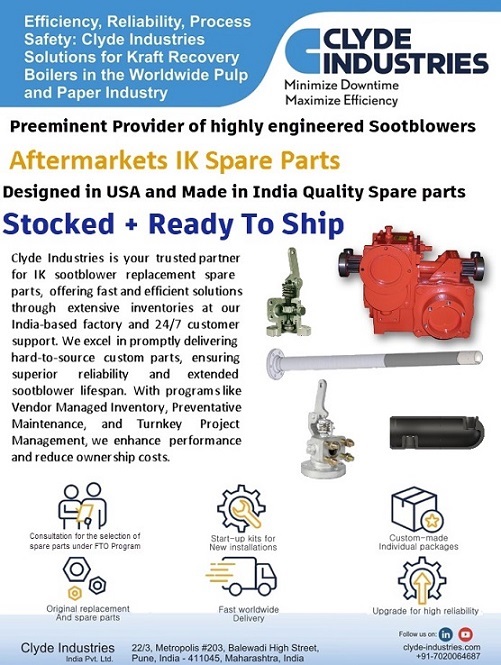 Next Stories