It is doubtful that the better price realization in export market will sustain constantly: Emami Paper's CEO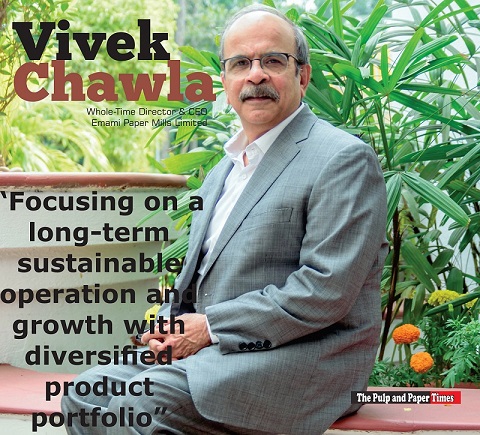 It is doubtful that the better price realization in export market will sustain constantly: Emami Paper's CEO
- EPML has a plan for backward integration to complement its paper and paperboard manufacturing
- Main focus is to have long-term sustainable operation and growth with diversified product portfolio, flexibility in raw material mix etc.
- Trials for Oil and Grease Resistant Paper and Barrier Coating Paperboard are in process
- PIMS is no way to curb import, it only regulates fair practices for importing paper
In an exclusive interview with The Pulp and Paper Times, Mr Vivek Chawla, Whole Time Director and CEO, of Emami Paper Mills Limited, shares his thoughts on several topics, including PIMS, the waste paper crisis, the effects of the Russia-Ukraine war, and paper prices. He also discusses Emami Paper's future growth strategy and potential for new products. Here is the whole interview he gave.
October 2022 | The Pulp and Paper Times:
Q: Please give a brief introduction of Emami Paper Mills Ltd. (EMPL)

Emami Group was founded by two visionary entrepreneurs Shri R.S. Agarwal and Shri R.S. Goenka, who are not only business partners but also childhood friends. From a humble beginning during mid-seventies, the Group today has an annual turnover of more than Rs 25,000 crores.
Emami Paper Mills Ltd (EPML), a part of the above Group, commenced its journey in 1981 and today it is one of the leading paper mills in the country, specialising in the manufacture of Newsprint, writing & printing paper and premium multilayer coated packaging board. We have a production capacity of 3,40, 000 TPA. The packaging board capacity is 2,00,000 TPA whereas the capacity of newsprint, writing and printing and craft has a combined capacity of 1,40,000 TPA.
EPML has maintained its prominent position in the high-end packaging board segment and continues to consolidate its preferred supplier status amongst leading end-use customers, front line printer/converters & brands. The packaging board plant with its high-end state of the art machine and latest technology produces the best quality Coated Grey Back (Eco Strong), Folding Box Board (Maxofold) and Coated Bleached Board (Glamkot). EPML packaging board portfolio has extended its footprints in the international market and has been recognised as a manufacturer of superior quality product. As much as 30% of the Board Mill production is exported to South East Asian countries & Europe.
Q: Emami Paper reported profitable growth; revenue growth of 61 percent in FY 21-22. How do you analyse the present state of the paper market under the inflation spike reducing the buying capacity of consumers? Will the better price realization in the Export market sustain constantly?

The extraordinary results that we achieved should not only be attributed to an upswing in realisations of the finished products. It is also a result of small/big improvement that were successfully carried out across the entire organisation. It is also the result of offering a smart product mix in line with the requirement of the customers. Making the Mills fungible to produce different kinds of papers helped us in offering product which is required by the customers. It is also the result of real time monitoring of raw material cost, furnish mix design so as to optimise on cost of manufacturing. The cost savings initiatives are being given a huge thrust.
During the last two years, the pandemic has disrupted the world both socially and economically. For paper industry also disruptions were caused by the pandemic but following the waning of the pandemic, we find ourselves in a buoyant market and our operating landscape continues to be optimistic.
It is doubtful that the better price realization in export market will sustain constantly. Apparently, realization is far better in Europe than South East Asia. European manufacturers are under immense pressure due to extra-ordinary power cost. We will continue to keep a close watch on Chinese economy since they may be more aggressive and that could bring down the export realisation.

Q: Recently, Various Paper Mills of Writing and Printing paper (WPP) have increased the prices on various paper grades due to Spike in coal prices, imported pulp, chemicals, and logistics costs. Can we assume further escalation in WPP prices due to the Russia-Ukraine War and Energy crisis?
The price increase in writing and printing paper is due to extra ordinary increase in coal prices, imported pulp, chemicals and logistics cost. Of course since most of the activities have now commenced in school, colleges etc. there is an increase in demand also. The Russia - Ukraine conflict has impacted the price of pulp and with the continuation of this conflict negative impact on the business is likely to continue.

Q: Emami Paper is intending to double its capacity in 3-5 years through brownfield expansion. What opportunities are pampering EMPL behind this decision? And how will this plan take shape?
As a first step, we have been successful in improving profitability through operational excellence. As a result we have internal accruals to drive growth of the organisation. We envisage a good growth potential in the paper board segment which is driven by increase in organised retail, e-commerce and ban on use of single-use plastic.
We have already well established ourselves as reputed paperboard manufacturer in domestic as well as international market and adding capacity will strengthen our position.
We also have a plan for backward integration to complement our paper and paperboard manufacturing.
Q: Russia accounts for almost 45 percent of Indian newsprint imports. Due to the Ukraine conflict, several major global shipping companies have stopped bookings to and from Russia. How does this situation benefit the local newsprint manufacturers? Also, the prices of imported newsprint have increased up to 80 percent. Do you think that 'war' may revive the domestic newsprint industry in the long term?
Russia-Ukraine war has caused a major disruption in newsprint global supply chain; major shipping lines has stopped operating from Russian Ports leading to a sharp drop in newsprint imports from Russia to India. This is one of the reasons for increase in demand of indigenous newsprint in current days with corresponding price increase, besides increase in newsprint production cost on account of scarcity and price rise of waste paper.
At present newsprint is a viable business but our main focus is to have long-term sustainable operation and growth with diversified product portfolio, flexibility in raw material mix etc. With this view recently, we have installed Valmet supplied Size Press in our PM-3 having annual capacity of 85,000 ton, so that we can produce Surface Sized Writing-Printing Paper. Our all three paper machines are fungible for producing writing-printing paper, newsprint and high BF kraft, which enables us to change our product mix according to market condition. We are well positioned to leverage our fungible manufacturing capacity according to market demand of various quality/grades of paper and paperboard.
Q: EMPL is also focussing on value-added & niche segment products. What new products can we expect from EMPL in the future? Please elaborate.
We have established a product development team headed by our Head of Sales & Marketing so as to continuously work on the development of high end as well as niche products. As a result, we have started manufacturing pharma insert, which has been well-accepted in the market. Trials for Oil and Grease Resistant Paper and Barrier Coating Paperboard are in process, which will be actively marketed in times to come.
Q: Packaging Board is one the fastest growing segments in the paper industry and EMPL is also planning to install another packaging board machine with internal accruals, in a horizon of the next three to five years. Please throw some light on this new machine.
We are in the process of finalizing the technology and design of the new machine that we are going to install. The planned new capacity will certainly be of state-of-the art technology and having flexibility of producing high-end virgin and recycle grade paperboard.
Q: Covid Pandemic spiked the waste paper market unexpectedly. The procurement of imported waste paper (OCC) is becoming a nightmare for domestic paper manufacturers, prices are unstable and lots of new capacities in Europe and America are ready to start or started. How do you assess the waste paper crisis?
There were 2 impacts of covid – overall reduction in the generation of waste paper due to restricted movement and the disrupted supply-chain. While there was massive increase in the generation of OCC globally due to the exponential rise of E-commerce sales because of everyone remaining home, it was also due to the shipping challenges, that the waste paper prices shot up to such extra-ordinary levels. Now that the world economy is coming back to normalcy, the generation of waste paper will increase with improvement in shipping as well as availability of containers.
The good part is that India is also getting into better waste recovery practices. We feel that despite increasing demand at the countries of origin, we will be able to procure the desired quantities for ourselves.
Q: Govt. of India has brought the Import of Paper under Paper Import Monitoring System (PIMS) from 1st October. This order shall be applicable to a range of paper products, such as newsprint, handmade paper, wallpaper base, duplicating paper, coated paper, uncoated paper, and other grades of paper. Do you think this step will bring relief to domestic paper manufacturers? What is the Government's intention behind PIMS? Don't you think PIMS is indirectly a 'curb' on imports?
The introduction of PIMS is intended to curb imports under the "Other Paper" category, which was used for dumping of paper by way of under-invoicing and to evade applicable import duties; thus denying Indian manufacturers a level playing field. It shall also restrict re-routing of paper and paperboards through other countries having duty advantage in lieu of trade agreements. This is a most sought after step taken by the Government, which will provide fair opportunity to the domestic paper manufacturer to compete with the overseas suppliers at level playing field.
There are excess capacities in some of the paper manufacturing countries across the globe and some among them enjoy substantial amount of export incentives and other advantages like easy access to cheap raw material and energy. Since, India has the fastest growing paper market, it has become a dumping yard for those countries who dump paper and paperboard in India at a price well below prevailing domestic price in those exporting countries.
PIMS is no way to curb import, it only regulates fair practices for importing paper and curbs various malpractices encouraging dumping in disguise, import duty evasion and ensure proper trade statistics being recorded.
Q: Do you think that regulating paper imports may lead to market monopoly by some paper manufacturers in the future?
Regulating paper imports will provide a fair business environment for domestic as well as international paper manufacturers and not restricting import in any way. Moreover, India's paper industry comprises of large numbers of players with diverse portfolio and hence there no scope of the Indian paper industry becoming monopolistic.
Q: Single-Use Plastic ban has been effective since July, amid the paper import monitoring system; do you think India has enough capacity to meet the demand of paper arising out of the ban?
What we understand single-use plastic ban will increase use of paper as environment friendly packaging alternative. This segment of paper manufacturing is growing rapidly in India, some large and many small-mid size expansions are in pipeline while some others have commissioned very recently. Our expansion plan also targets this segment broadly. So far as packaging grade paper and paperboard is concerned forth coming expansion projects are in line with the potential demand increase. Still if there is any need for export, recently implemented PIMS in no way is going to restrict the same; PIMS only controls malpractices adopted in the course of import.
Q: Reduction in Energy consumption is the need of the hour globally. What are the EMPL's plans to cut down energy consumption to 50% by 2030?
Ans: Meeting 50% of energy requirements from renewable energy by 2030 is one of the five nectar elements (Panchamrit) committed by our Hon'ble Prime Minister at Glasgow COP26 summit. We are also determined to align our operation in line with the commitment. On one side while we put continuous effort to reduce our overall energy consumption, we are also looking at non-conventional energy resources for generating power.
At present we are meeting part of our energy consumption with open access green energy. Our captive generation plants, which are highly energy efficient, are co-generation based and considered to be at par with renewable energy in reduction of fossil fuel consumption. Going forward either we will be setting up onsite renewable energy generation facilities or will have a joint venture or collaboration with some renowned renewable energy generator. I am pleased to share that in view of our continuous efforts for energy conservation we have been awarded with the 1st prize in National Energy Conservation Award, 2021 for the Pulp and Paper Sector.

Web Title: It is doubtful that the better price realization in export market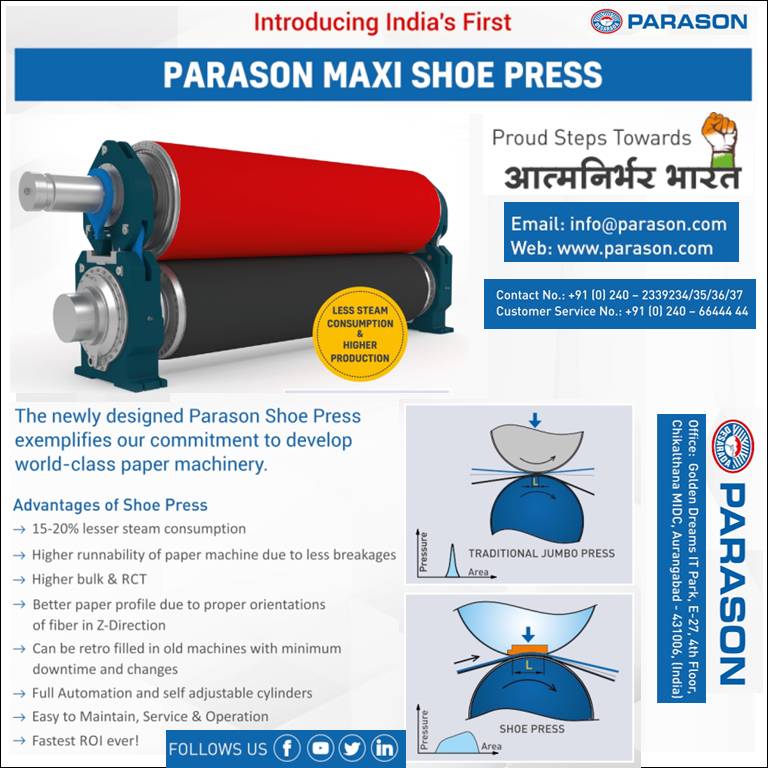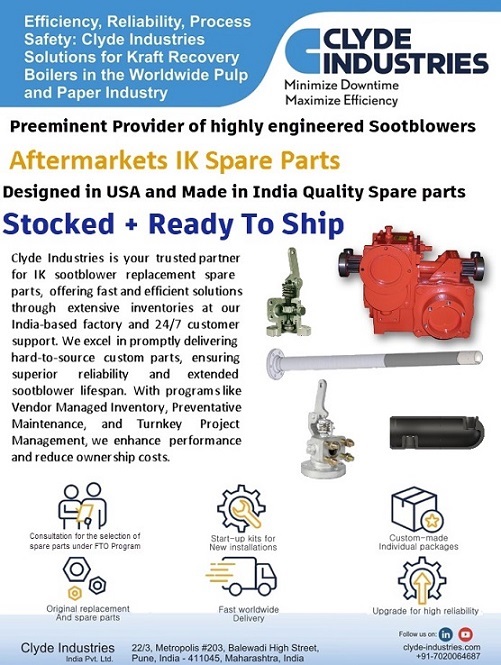 Next Stories